[SPAM]

 Absolute Heaven On Earth On Diwali, The Golden Temple Amritsar View

This is a photoshopped image of Golden Temple going viral on social media since many years. Please find more details at the verification section of this article.
Post Information:
Below post has been circulating on social media.
Absolute Heaven On Earth On Diwali, The Golden Temple Amritsar View
Verification: This is a photoshopped image of the Golden Temple and Lanterns in the sky is from Thailand
Sikh devotees pay their respects at the illuminated Sikhism's holiest shrine, Golden Temple, in Amritsar on the eve of Bandi Chhor Divas or Diwali. It is celebrated to mark the return of the Sixth Guru, Guru Hargobind Ji, who was released from prison and also managed to free 52 political prisoners at the same time from Gwalior fort by Mughal Emperor Jahangir."
Off course the Photo is very beautiful but is photoshopped by Navkaran Singh Brar. He posted this image on his Instagram which became popular. He also posted this picture on the Facebook page. There are other photoshopped images on his profile. He used words like photoshop, fantasy etc in tags. Check the link. Navkaran Singh Brar.
Now let's check how this photo is created.
This is an actual image of Golden Temple on Diwali:
This picture was posted on the Internet on 15 Nov 2012.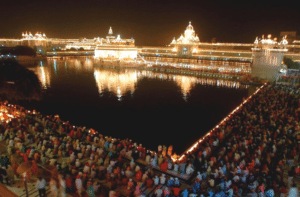 Now check this other image from Thailand Festival: Lanterns in the sky is From Thailand
November 18, 2013: Thai festival of Loy Krathong.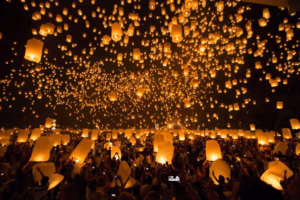 Above two images are mixed to create a new image that is viral on social media with a false caption about the view of Golden Temple on Diwali. Look at the image below.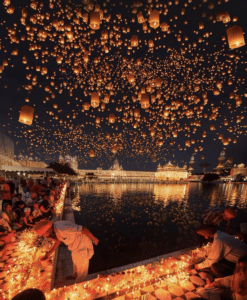 It has become so easy to trap people this way and in many other ways. You can clearly note the variation of dates of posting the pictures. These are small clues that we ignore, thus fake news, images, videos, are going viral, and we believe it so quickly without even blinking. This is a very common example of how people believed in this image and made it viral by spreading it repeatedly until now. Please be careful before you forward any such post. Always Check4Spam before you share any such news with your family and friends.
---
Find all fact-checking articles about news using Nokiye.com
Golden Temple On Diwali | Nokiye.com
---
Post Date: 08 Nov 2018
Post ID: #70040
Thank You for visiting Check4Spam. Please write a comment on this article if you like our service.