[SPAM] हाथमे तलवार लेकर दिल्ली पुलिस की रक्षा करते धर्मरक्षक
An old photo of police personnel patrolling along the street with two men wearing saffron stoles, from Budaun is being shared with the false claim "हाथमे तलवार लेकर दिल्ली पुलिस की रक्षा करते धर्मरक्षक."
Post Information:
The below post has been circulating on social media
हाथमे तलवार लेकर दिल्ली पुलिस की रक्षा करते धर्मरक्षक

https://twitter.com/WajidShaikh24/status/1515761144870281220?ref_src=twsrc%5Etfw%7Ctwcamp%5Etweetembed%7Ctwterm%5E1515761144870281220%7Ctwgr%5E%7Ctwcon%5Es1_&ref_url=https%3A%2F%2Fpublish.twitter.com%2F%3Fquery%3Dhttps3A2F2Ftwitter.com2FWajidShaikh242Fstatus2F1515761144870281220widget%3DTweet
Verification: The two men walking along with the police are corona warriors
An old photo of police personnel patrolling along the street with two men wearing saffron stoles, from Budaun is being shared with the false claim "हाथमे तलवार लेकर दिल्ली पुलिस की रक्षा करते धर्मरक्षक." The post is being shared on Twitter. and Facebook.
Budaun police clarified in reply to a Twitter user @Raqim Qadri. Police wrote "Sho कोतवाली द्वारा बताया गया कि उक्त फोटो मे दर्शाये गये दोनों व्यक्ति कोरोना वारियर्स 1. मुकेश कुमार तथा 2. सुनील गुर्जर द्वारा मोहल्ले में भ्रमण कर लोगों से आरोग्य सेतु एप डाउनलोड करने तथा अपने-अपने घरों में रहने की अपील की गई । पुलिस के साथ दोनों कोरोना वारियर्स हैं।." ( Translation in english – It was told by the Kotwali that both the persons shown in the above photo, Corona Warriors 1. Mukesh Kumar and 2. Sunil Gurjar visited the locality and appealed to the people to download the Arogya Setu App and stay in their respective homes. Both are Corona Warriors with police). The tweet was shared on 20th April 2020. It is an old video from Badaun. Check the links shared below to know the fact:
Yeh video budaun ke mohalla jalandhari saray ki hy..
Or yeh police walo ke sath ghamcha dale kon chal rha h @budaunpolice https://t.co/dPNhQuram6

— RaQim Qadri (@RaqimQ) April 20, 2020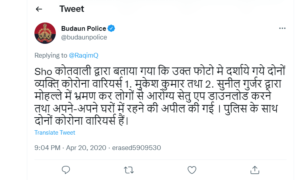 Read more @The Quint
We ensure that you are updated with the facts. Please Check4spam before you believe and forward any doubtful image, message, or video. Be cautious, be safe.
---
Find all fact-checking articles about news using Nokiye.com
हाथमे तलवार लेकर दिल्ली पुलिस की रक्षा करते धर्मरक्षक I Nokiye
---
Post Date: 21 April 2022
Post ID: #80090