[SPAM] शिवलिंग पर घटिया और बेहूदा बयान देने वाला दिल्ली यूनिवर्सिटी के प्रोफेसर "रतन लाल" को दिल्ली पुलिस ने धरदबोचा
An irrelevant video is shared with claims of the arrest of Delhi University professor Ratan Lal in the context of his Facebook post regarding Shivling' found inside Varanasi's Gyanvapi mosque complex
Post Information:
The below post has been circulating on social media
शिवलिंग पर घटिया और बेहूदा बयान देने वाला दिल्ली यूनिवर्सिटी के प्रोफेसर "रतन लाल" को दिल्ली पुलिस ने धरदबोचा
Verification: The police in the video do not show the arrest of Delhi University Professor Ratan Lal
An old video is being viral with false claim "शिवलिंग पर घटिया और बेहूदा बयान देने वाला दिल्ली यूनिवर्सिटी के प्रोफेसर "रतन लाल" को दिल्ली पुलिस ने धरदबोचा." The video is related to the history professor ( Ratan Lal) with Delhi University's Hindu College who was arrested over a social media post that appeared to question claims of a 'Shivling' found inside Varanasi's Gyanvapi mosque complex. Ratan Lal, an associate professor, was arrested by officers of north Delhi's Cyber Police Station. He is accused of promoting enmity between groups on grounds of religion and committing "acts prejudicial to maintenance of harmony". The post by Ratan Lal can be seen here with the caption "यदि यह शिव लिंग है तो लगता है शायद शिव जी का भी खतना कर दिया गया था." Check the screenshot from the facebook post: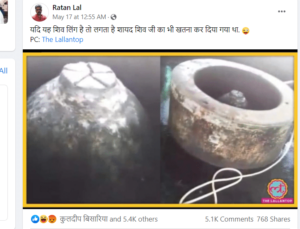 In fact, the video is from Chandigarh when Chandigarh police created a device to catch hold of people violating the rules while Covid times. The equipment helped catch anyone keeping a safe distance to avoid infections. The video shows how the device works. Check the links shared below to know the facts:
DGP Chandigarh Police tweeted about the equipment and the drill about the unique way of tackling people in Corona times.  The tweet is dated April 25th, 2020. The news can be seen here, here, here, and here.
VIP Security wing of Chandigarh Police has devised this unique way of tackling non-cooperating corona suspects and curfew breakers.
Great equipment, great drill !!!
Way to go @ssptfcchd and Insp Manjit, HCt Gurdeep, HCt Pawan and Ct Usha pic.twitter.com/oTLsGoe6yt

— DGP Chandigarh Police (@DgpChdPolice) April 25, 2020
We ensure that you are updated with the facts. Please Check4spam before you believe and forward any doubtful image, message, or video. Be cautious, be safe.
---
Find all fact-checking articles about news using Nokiye.com
शिवलिंग पर घटिया और बेहूदा बयान देने वाला दिल्ली यूनिवर्सिटी के प्रोफेसर "रतन लाल" को दिल्ली पुलिस ने धरदबोचा I Nokiye
---
Post Date: 25 May 2022
Post ID: #80241