[SPAM] ये है इस्कॉन मंदिर के स्वामी निताई दास रमजान में रोजा इफ्तारी करवाते हुए. बांग्लादेश मे कल इनकी भी हत्या कर दी गयी है
The false post with an image of a Monk serving food to Muslims in West Bengal is shared on social media as a victim of Bangladesh violence
Post Information:
The below post has been circulating on social media
ये है इस्कॉन मंदिर के स्वामी निताई दास रमजान में रोजा इफ्तारी करवाते हुए. बांग्लादेश मे कल इनकी भी हत्या कर दी गयी है

https://twitter.com/Pankajp58645525/status/1454363932555055111?ref_src=twsrc%5Etfw%7Ctwcamp%5Etweetembed%7Ctwterm%5E1454363932555055111%7Ctwgr%5E%7Ctwcon%5Es1_&ref_url=https%3A%2F%2Fpublish.twitter.com%2F%3Fquery%3Dhttps3A2F2Ftwitter.com2FPankajp586455252Fstatus2F1454363932555055111widget%3DTweet
Verification: Shared photo is an old one and is clicked at the ISKCON temple in West Bengal in the year 2016 
The false post with an image of a Monk serving food to Muslims in West Bengal is shared on Facebook and Twitter with the caption "सांप को दूध पिलाना" कहावत सुनी होगी आपने…अब देख लीजिए… ये है इस्कॉन मंदिर के स्वामी निताई दास रमजान में रोजा इफ्तारी करवाते हुए…बांग्लादेश मे कल इनकी भी हत्या कर दी गयी है।" The monk is claimed to be the victim of Bangladesh violence in the viral post. Check the links shared below to know the facts:
The image in the viral post claims that Nitai Das, one of the devotees killed during the attack on the ISKCON temple in the Noakhali district of Bangladesh. In fact, The photo is old, clicked in 2016 at ISKCON temple in Mayapur village of West Bengal.
On 13th October 2021, radical extremists began strategic, coordinated attacks on Hindu minorities in Bangladesh. The attacks continued until October 15th, 2021, with innumerable homes, shops, puja pandals, and temples being looted, burned, and destroyed.  ISKCON News Bangladesh does not mention the name Nitai Das anywhere in their report.
In 2016, the report by UCA News mentioned that the gesture of the group, commonly known as the Hare Krishna movement, was "a surprise" to local Muslims and "touched their hearts," Saiful Islam said. The photo was clicked by Raghu Nath on 22nd June 2021 at Mayapur as mentioned under the photo. (A monk from the International Society for Krishna Consciousness offers sweetmeats to Muslims during Iftar at the Hindu group's temple in Mayapur on 22 June. (Photo by Raghu Nath)) The same viral image can be seen below in the article published in 2016: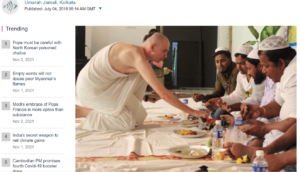 We ensure that you are updated with the facts. Please Check4spam before you believe and forward any doubtful image, message, or video. Be cautious, be safe.
---
Find all fact-checking articles about news using Nokiye.com
ये है इस्कॉन मंदिर के स्वामी निताई दास रमजान में रोजा इफ्तारी करवाते हुए. बांग्लादेश मे कल इनकी भी हत्या कर दी गयी है I Nokiye
---
Post Date: 05 Nov 2021
Post ID: #79351