[SPAM] मोदी के दबाव के चलते ट्रंप ने किया बगदादी को ढेर

Photo-shopped image is created using image from one of the News Channel Show and is being shared with wrong captions on social media. Please read more about it in verification section of this article.
Post Information:
Below post has been circulating on social media.
https://twitter.com/ziddi_zoya_/status/1188853005203968000
Verification: Image is photo shopped
The image is being photo shopped using an image from News channel show of News 18″ Aar Par". Its being shared with wrong captions on social media. Anchor of the show "Aar Par" clarified in his tweet that the post is fake. Please go through the link shared below to know the fact:
यह तस्वीर फ़र्ज़ी है आप बड़ी पार्टी के नेता हैं गाली देने से पहले ज्ञान बढ़ाये । https://t.co/fPMrziq3DZ

— Amish Devgan (@AMISHDEVGAN) October 28, 2019
When we did google search for the image shared, we found the similar images but the text that is shown on the fake image was not found in any of the image on google. In fact the image is being photo shopped and the fake text is added to it for malicious agendas.
Search the same image in google shows the below shared images: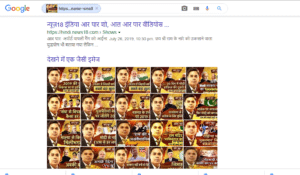 ---
Read more @Boom live, @Alt news
We ensure that you are updated with the facts. Please Check4spam before forwarding and believing any doubtful image, message or video. Be cautious, be safe.
---
Find all fact checking articles about news using Nokiye.com
मोदी के दबाव के चलते ट्रंप ने किया बग्दादी को ढेर I Nokiye
---
Post Date: 30 Oct 2019
Post ID: #74176