[SPAM] भारत सरकार सभी ने भारतीय बच्चो को Online पढ़ाई के लिए *₹ 2399 का 12 महीने* वाला रिचार्ज फ्री में देने का वादा किया है
The fake post and the link provided for the free recharge by the Indian Government to celebrate Neeraj Chopra's win are shared on social media
Post Information:
The below post has been circulating on social media
नीरज चोपड़ा ओलम्पिक में भारत के लिए *गोल्ड मैडल* जितने की खुशी में भारत सरकार सभी भारतीय बच्चो को Online पढ़ाई के लिए *₹ 2399 का 12 महीने* वाला रिचार्ज फ्री में देने का वादा किया है तो अभी निचे नीले रंग की लिंक पर क्लिक करके अपने नंबर पर रिचार्ज करे। https://free.myrecharge.site/)
Verification: The Indian government is not providing any free recharge for Online studies to celebrate Neeraj Chopra's win
The post is being shared on social media with claims "नीरज चोपड़ा 🇮🇳* ओलम्पिक में भारत के लिए *गोल्ड मैडल* जितने की खुशी में भारत सरकार सभी भारतीय बच्चो को Online पढ़ाई के लिए *₹ 2399 का 12 महीने* वाला रिचार्ज फ्री में देने का वादा किया है तो अभी निचे नीले रंग की लिंक पर क्लिक करके अपने नंबर पर रिचार्ज करे। https://free.myrecharge.site/)" The post with false claims and link can be seen here, here ,here.
The information shared is fake and the link shared to proceed is not authentic. There is no such announcement by the Indian Government. The claim is false. Kindly don't share any kind of personal information on the link shared in the viral posts. The link does not take you to any authentic or official site.
Most government websites end with '.gov.in' or '.nic.in', but the URL of the website in question (free-rec.site) also did not look like a usual government website URL. Be careful about the URL of any shared link. The link when clicked asks for personal details like the user's phone number and state. On entering details, we were asked to share the same post with 10 groups of friends on WhatsApp. This kind of pattern is never found on authentic websites.
if you feel doubtful about the share, always check the authentic website for any related share on social media. Ministry of Education does not contain any such notification or scheme of free recharge for 12 months for online studies as stated in the false viral post.
Shared below are the screenshots from the fake link: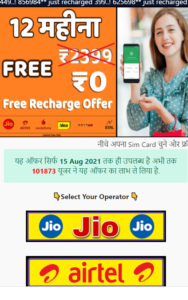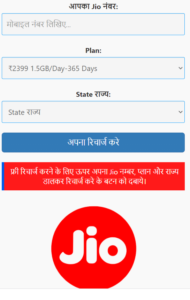 PIB Fact Check tweeted about the fake information shared :
दावा: #Olympics2021 में स्वर्ण पदक मिलने की खुशी में भारत सरकार सभी को 12 महीने फ्री रिचार्ज का अवसर दे रही है#PIBFactCheck

▶️ यह दावा फर्जी है।

▶️भारत सरकार ने फ्री रिचार्ज के बारे में ऐसी कोई घोषणा नहीं की है।

▶️कृपया ऐसे किसी भी फर्जी लिंक पर अपनी निजी जानकारी साझा न करे। pic.twitter.com/a9KDFX00uV

— PIB Fact Check (@PIBFactCheck) August 13, 2021
We ensure that you are updated with the facts. Please Check4spam before you believe and forward any doubtful image, message, or video. Be cautious, be safe.
---
Find all fact-checking articles about news using Nokiye.com
भारत सरकार सभी ने भारतीय बच्चो को Online पढ़ाई के लिए *₹ 2399 का 12 महीने* वाला रिचार्ज फ्री में देने का वादा किया है I Nokiye
---
Post Date: 16 Aug 2021
Post ID: #79069