[SPAM] पीएम मोदी ने जिताया पहला ओलंपिक पदक
An old Aaj Tak graphic is used with misleading claims of giving credit to PM Modi for India's First Olympic medal is shared on social media
Post Information:
The below post has been circulating on social media
पीएम मोदी ने जिताया पहला ओलंपिक पदक

If Bootlicking Was An Olympic Sport, Sweta Singh Would Bring Gold For Modi

https://twitter.com/SandeepChNews24/status/1419266036705107971?ref_src=twsrc%5Etfw%7Ctwcamp%5Etweetembed%7Ctwterm%5E1419266036705107971%7Ctwgr%5E%7Ctwcon%5Es1_&ref_url=https%3A%2F%2Fpublish.twitter.com%2F%3Fquery%3Dhttps3A2F2Ftwitter.com2FSandeepChNews242Fstatus2F1419266036705107971widget%3DTweet

https://twitter.com/PriaINC/status/1419221964993056778?ref_src=twsrc%5Etfw%7Ctwcamp%5Etweetembed%7Ctwterm%5E1419221964993056778%7Ctwgr%5E%7Ctwcon%5Es1_&ref_url=http%3A%2F%2Ftli.vocalwire.com%2Fmain.jsp
Verification: Aaj Tak graphic giving credit to PM Modi for India's first Olympic medal is morphed
An old graphic of Hindi news channel Aaj Tak from the year 2019 went viral with the misleading claim "पीएम मोदी ने जिताया पहला ओलंपिक पदक" after weightlifter Mirabai Chanu from Manipur won India's first medal on the first day of the 2020 Tokyo Olympics on July 24, 2021, by lifting a combined weight of 202 kg in the women's 49 kg event to win silver.
In the viral graphics, Prime Minister Narendra Modi has been credited for winning India's first medal. Check the links below to know the facts:
Aaj Tak's news show Khabardar aired on July 24, 2021, after India got its medal in the Olympics. The image viral is not seen in the news. The news anchor hosting the program that day was Chitra Tripathi and not Sweta Singh as shown in the fake graphic. Check the screenshot from the tweet shared below by Aaj Tak on 24th July 2021: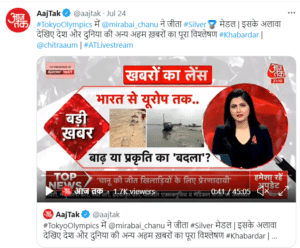 #TokyoOlympics में @mirabai_chanu ने जीता #Silver मेडल | इसके अलावा देखिए देश और दुनिया की अन्य अहम ख़बरों का पूरा विश्लेषण #Khabardar | @chitraaum | #ATLivestream https://t.co/GsZ5Q32Zqo

— AajTak (@aajtak) July 24, 2021
A Facebook post uploaded by Aaj Tak posted in July 2019 with the same graphic but the text reading, 'Will PM Modi win the world cup for India?" The upload was regarding the Indian men's cricket team when they were playing at the ICC Cricket World Cup 2019. Check the date on the screenshot of the post shared on Facebook on 9th July 2019: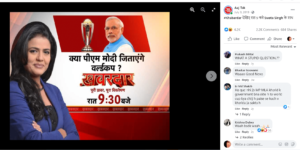 Watch the video of the event "Weightlifting Tokyo 2020 Highlights":
A historic decision taken to establish National Sports University in Manipur was another big achievement for the northeast region.

I congratulate @mirabai_chanu on behalf of 135 crore Indians and the Parliament, for her achievement – Union Minister @ianuragthakur pic.twitter.com/r8fGNbheE5

— PIB India (@PIB_India) July 26, 2021
We ensure that you are updated with the facts. Please Check4spam before you believe and forward any doubtful image, message, or video. Be cautious, be safe.
---
Find all fact-checking articles about news using Nokiye.com
पीएम मोदी ने जिताया पहला ओलंपिक पदक I Nokiye
---
Post Date: 02 July 2021
Post ID: #78998