[SPAM] Suspension Of Flights From India, Pakistan, Bangladesh, And Sri Lanka To UAE May Go Beyond December 31
The fake screenshot of the Gulf News article with the edited date for the suspension of flights from India, Pakistan, Bangladesh, and Sri Lanka to the UAE is shared on social media
Post Information:
The below post has been circulating on social media
Suspension Of Flights From India, Pakistan, Bangladesh, And Sri Lanka To UAE May Go Beyond December 31
Verification: Edited Gulf News Screenshot is shared with information about the suspension of flights
The fake screenshot of the Gulf News article with the edited date for the suspension of flights from India, Pakistan, Bangladesh, and Sri Lanka to UAE is shared on social media.  Recently a fake website of the UAE Embassy In India was blocked after the COVID-19 travel scam. Delhi-based gang extorted money purportedly for 'special approval' for India-UAE travel. Be very careful while sharing important files and documents. The fraudsters were using the fake website with a '.in' domain [uaeembassy.in] cloning information — excluding the contact details — on the original website of the UAE Embassy in India that uses a '.ae' domain. They were targeting expatriates seeking special approval to return to the UAE. Fraudsters are asking huge amounts from the people stuck in their trap.
Check the links below to know the facts:
Gulf News has also alerted about the scam about the ban of flights on its Facebook account and Twitter account.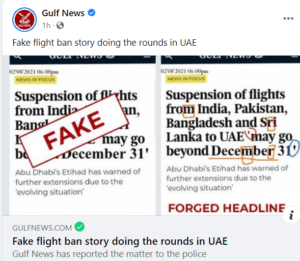 Alert: Fake flight ban story doing the rounds in #UAE https://t.co/AseufMT4wA

— Gulf News (@gulf_news) August 3, 2021
The real news is "Suspension of flights from India, Pakistan, Bangladesh, and Sri Lanka to UAE 'may go beyond August 7'. Gulf News, in its articles, alerted about the spread of the fake screenshot of their article on social media. An updated article on 3rd August 2021 shared "A screenshot of a Gulf News article claiming that the flight ban may go beyond December 31 is false. Gulf News clarifies that the flight ban is until August 7 and not December 31. Travel industry sources have said the ban may extend until August 31 as some flights scheduled between August 7 and August 12 have already been canceled." Check the real screenshot and the content in the image below: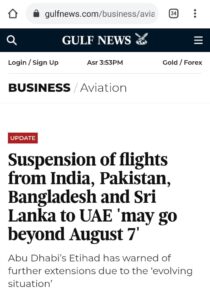 Read the full article @ Gulf News
Check the difference between fake and real screenshots shared below:
Fake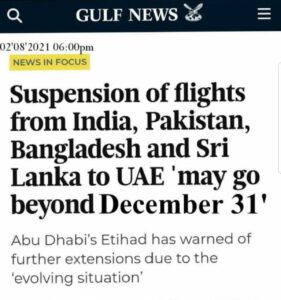 Real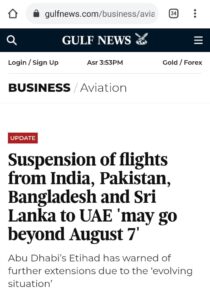 We ensure that you are updated with the facts. Please Check4spam before you believe and forward any doubtful image, message, or video. Be cautious, be safe.
---
Find all fact-checking articles about news using Nokiye.com
Suspension Of Flights From India, Pakistan, Bangladesh, And Sri Lanka To UAE May Go Beyond December 31 I Nokiye
---
Post Date: 03 Aug 2021
Post ID: #79014