[SPAM] देश के बेहतरीन कॉमेडियन एवं हास्य कवि, हरियाणा की शान सुरेंद्र शर्मा का हुआ निधन।
The post is shared on social media with false claims about the death of Comedian Surender Sharma
Post Information:
The below post has been circulating on social media
देश के बेहतरीन कॉमेडियन एवं हास्य कवि, हरियाणा की शान सुरेंद्र शर्मा का हुआ निधन।
Verification: Comedian Surender Sharma is fit and fine
A photo of Comedian Surender Sharma is shared on social media with false messages about his death with claims "देश के बेहतरीन कॉमेडियन एवं हास्य कवि, हरियाणा की शान सुरेंद्र शर्मा का हुआ निधन।" and "देश के बेहतरीन Comedian और हास्य कवि 'सुरेंद्र शर्मा ' अब हमारे बीच नहीं रहे। आइऐ उनकी आत्मिक शान्ति के लिए प्रार्थना करें." This information is not accurate. Comedian (Haasya Kavi) Surender Sharma is very well alive and shared a video with the caption "सुरेंद्र शर्मा जी धरती से बोल रहे हैं "on Facebook confirming that he is fine and the news about his death is false. who lost the loved one.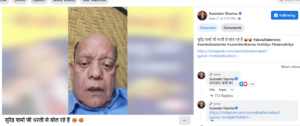 We wish a healthy and happy life for Comedian Surender Sharma Ji.
News 18 Hindi published an article with the news about the demise of comedian Surender Sharma. But they added a correction for publishing the wrong photograph along with the news. They wrote " भूल सुधार: इस खबर में मानवीय भूलवश हिन्दी के सुप्रसिद्ध हास्य कवि सुरेंद्र शर्मा की फोटो प्रकाशित हो गई थी, इसके लिए हम क्षमा प्रार्थी हैं." Our team Check4Spam pays our condolences to the family.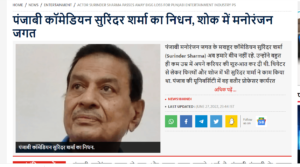 While we share the facts with you, let us watch an amazing comedy by Surender Sharma:
We ensure that you are updated with the facts. Please Check4spam before you believe and forward any doubtful image, message, or video. Be cautious, be safe.
---
Find all fact-checking articles about news using Nokiye.com
देश के बेहतरीन कॉमेडियन एवं हास्य कवि, हरियाणा की शान सुरेंद्र शर्मा का हुआ निधन। I Nokiye
---
Post Date: 01 July 2022
Post ID: #80409