[SPAM] ऑफलाइन विश्वविद्यालयों में परीक्षाएँ स्वकेंन्द्र आयोजित की जाये।#यूजीसी
A fake notice attributing to UGC regarding offline University Examinations is shared on social media with false claims
Post Information:
The below post has been circulating on social media
ऑफलाइन विश्वविद्यालयों में परीक्षाएँ स्वकेंन्द्र आयोजित की जाये।#यूजीसी
Verification: UGC has not issued any notice about offline examinations
A fake notice attributing to UGC India regarding offline University Examinations is shared on social media with false claims that say "ऑफलाइन विश्वविद्यालयों में परीक्षाएँ स्वकेंन्द्र आयोजित की जाये।#यूजीस."
In fact, this is not true. Check the links shared below to know the facts:
UGC (University Grant Commission) published a notice on its website on13th Dec 2021 clarifying the fake notice shared regarding offline university exams. UGC tweeted refuting the fake share. PIB also shared about the fake notice issued attributing it to UGC. Check the public notice shared by UGC for awareness: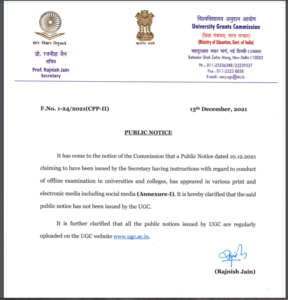 Clarification regarding Fake Public Notice pic.twitter.com/6iLFDBEV8I

— UGC INDIA (@ugc_india) December 13, 2021
A public notice regarding offline examinations in universities is circulating on social media & claims to be issued by @ugc_india#PIBFactCheck:
➡️This public notice is #FAKE!
➡️University Grants Commission has NOT issued any such notice.

For info 🔗https://t.co/7iXW8wa5Ep pic.twitter.com/DxY6QbQtmg

— PIB Fact Check (@PIBFactCheck) December 12, 2021
For authentic information or notice regarding the topic shared on any social platform, check on the official website of the concerned organization. Regarding UGC check on its Website.
We ensure that you are updated with the facts. Please Check4spam before you believe and forward any doubtful image, message, or video. Be cautious, be safe.
---
Find all fact-checking articles about news using Nokiye.com
ऑफलाइन विश्वविद्यालयों में परीक्षाएँ स्वकेंन्द्र आयोजित की जाये।#यूजीसी I Nokiye
---
Post Date: 21 Dec 2021
Post ID: #79551