[SPAM] अलाहाबाद विश्वविध्यालय हाँस्टल के 25 छात्र बम बनाते पकडे गए
An old image from Madhya Pradesh is being shared on social media with the false claim that students were caught making bombs in Allahabad university's hostel
Post Information:
The below post has been circulating on social media
आतंकवाद का नया अड्डा अलाहाबाद विश्वविध्यालय हाँस्टल के 25 छात्र बम बनाते पकडे गए, 58 कमरे सील किए गए मीडिया खामोश बैठी है ,क्योंकि पकडे गए छात्रोंमे एक भी मुस्लिम छात्र नही है

https://twitter.com/Jaysing53113529/status/1519332890978357250?ref_src=twsrc%5Etfw%7Ctwcamp%5Etweetembed%7Ctwterm%5E1519332890978357250%7Ctwgr%5E%7Ctwcon%5Es1_&ref_url=https%3A%2F%2Fpublish.twitter.com%2F%3Fquery%3Dhttps3A2F2Ftwitter.com2FJaysing531135292Fstatus2F1519332890978357250widget%3DTweet

Verification: An old image of people arrested in sex- racket from Madhya Pradesh is shared with the false claim
An old image from Madhya Pradesh is being shared on Twitter and Facebook with the false claim that 25 non-Muslim students were arrested from Allahabad University for making bombs in the hostel. The claim is "आतंकवाद का नया अड्डा अलाहाबाद विश्वविध्यालय हाँस्टल के 25 छात्र बम बनाते पकडे गए,58 कमरे सील किए गए मीडिया खामोश बैठी है ,क्योंकि पकडे गए छात्रोंमे एक भी मुस्लिम छात्र नही है !"
A post with two images put together is viral on social media. The first photograph, in reality, is of a group of people in police custody who were accused of being a part of a sex racket gang. They were arrested from the Lebad-Nayagaon four-lane road, Madhya Pradesh. An article on Patrika dated July 15, 2019, had reported the incident, the second is a file image of Uttar Pradesh Chief Minister Yogi Adityanath. Facebook page RATLAMPOLICE shared the news on July 15, 2019, and the photo mentioned the arrest of a sex racket that included 9 women and 15 men from different states. Check the screenshot shared below from the link. The viral image has a board on top and the name of the Office on the board. superintendent of city police, Jaora, Ratlam district, Madhya Pradesh. There is a telephone number. The photo was viral earlier and was debunked by fact-check organizations. The photo is not from Allahabad University and the people in the viral photo were not making Bombs.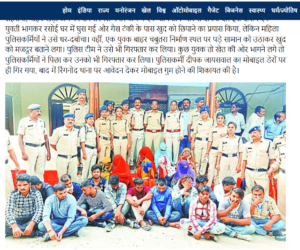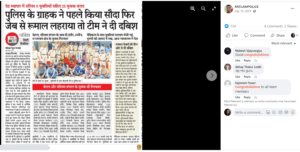 Read more @AltNews
We ensure that you are updated with the facts. Please Check4spam before you believe and forward any doubtful image, message, or video. Be cautious, be safe.
---
Find all fact-checking articles about news using Nokiye.com
अलाहाबाद विश्वविध्यालय हाँस्टल के 25 छात्र बम बनाते पकडे गए I Nokiye
---
Post Date: 12 May 2022
Post ID: #80181