(
SPAM

) Woman delivers 11 babies in one night

The picture and the story of "Woman delivers 11 babies in one night" both are false. Please read more at the verification section of this article.
Post Information:
Below picture claiming to be of a "woman delivers 11 babies in one night" has been circulating on social media. Also There are various Youtube video and articles online which claims the same.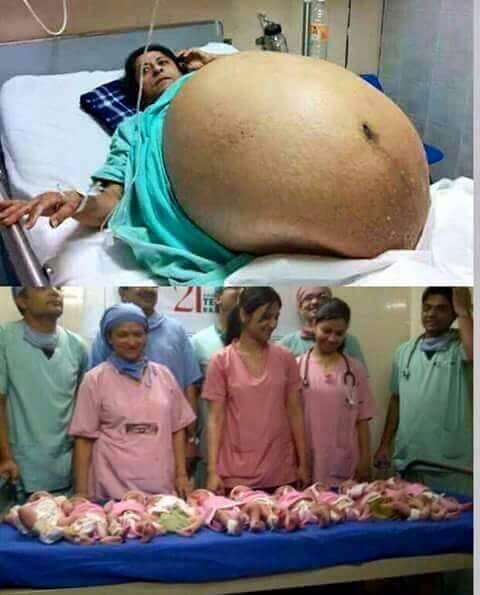 Other Versions
She is RODA COOPER from Nanpura, Surat..
A 25-yr old Parsi Woman gave birth to eleven (11) baby boys. Doctors were really surprised, shocked and glad to have successful delivery.
Well, it is a blessing of God who gives 11 baby boys to one woman. 21st century record. It was noted in Guinness world records…😳👇👇❤
Verification:
The lady
She is Mercedes Talamante from Mexico who doubled in weight but thought it was just sign of aging, went to doctor after five years to find she had largest ovarian tumour ever.
Read more about the case at the mainstream media report at the link below dated (Aug 2014)
http://www.dailymail.co.uk/news/article-2724821/Mexican-woman-weight-ballooned-275-pounds-132-pound-TUMOUR-finally-went-check-nagged-daughter.html
https://www.youtube.com/watch?v=k6u1y8Lo9DQ
The 11 babies
Its a picture from an IVF fertility center in Surat.
SURAT (10 Nov 2011) : A city-based In Vitro Fertilization (IVF) center will undertake operations on 11 would-be mothers to schedule the births of their babies on Friday, 11-11-11.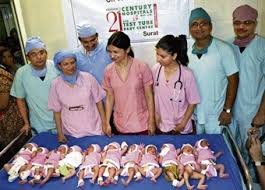 About 30 women had conceived through IVF nine months ago at the 21st Century Hospital in the city. Of them, 11 couples wanted the delivery of their babies on the special date.
Read more at the link below:
http://timesofindia.indiatimes.com/city/surat/11-IVF-babies-to-be-delivered-on-11-11-11-in-city/articleshow/10683457.cms
Post Date: 3 Dec 2016
Post ID: #1439
Thank You for visiting Check4Spam. Please write a comment at this article if you like our service.