[SPAM] We Have Vacancies In Below Mention Branches (TATA MOTORS)
This post claiming that TATA MOTORS is offering jobs and selecting candidates, circulating on social media is fake. Please find more details in this article.
Post Information:
Below post has been circulating on social media.

Verification: No, TATA MOTORS did not share any such letter
The letter circulating on social media claiming that TATA MOTORS is selecting candidates and calling them for interviews at various cities and asking to pay refundable security deposit of different amount for different posts is absolutely fake. Please dont fall for this.This is a fraud post to make money on account of offering jobs in reputed companies. This kind of fake post affects the companies reputation. People do this to fool who are in need of job. Without checking all the details, never submit any document or deposit money. Such fake emails offering job and asking refundable amount is circulated since 2013. Our team Check4Spam checked with TATA MOTORS. They confirmed that have not posted any such letter. Check the link below:
 Query by our team on twitter with TATA MOTORS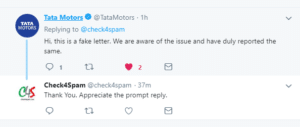 Also go through the complaints by the people who received such fake offers through mail: Fake Tata Motors Interview Email
Below listed are the few IDs shared by fraud people to apply for jobs: 
jjg@choicetgc.in
tata@gmail.com
tatamotors.company@post.com
tata.motors.nayak@gmail.com
career@tatamotorslimited.info
apply@tatamotorshr.com
We ensure that you are updated with the facts. Please Check4spam before forwarding and believing any doubtful image, message or video. Be cautious, be safe.
---
Find all fact checking articles about news using  Nokiye.com
TATA MOTORS offering jobs | Nokiye.com
---
Post Date: 30 Jan 2019
Post ID: #70986