[SPAM] Muskan Khan, Hijab Girl, Has Been Killed 
An image of an injured Kashmiri girl from the year 2017, is falsely shared as Muskan Khan(Hijab Girl) killed
Post Information:
The below post has been circulating on social media
Muskan Khan, Hijab Girl, Has Been Killed

https://twitter.com/ac_rasail/status/1523262849757290496?ref_src=twsrc%5Etfw%7Ctwcamp%5Etweetembed%7Ctwterm%5E1523262849757290496%7Ctwgr%5E%7Ctwcon%5Es1_&ref_url=https%3A%2F%2Fpublish.twitter.com%2F%3Fquery%3Dhttps3A2F2Ftwitter.com2Fac_rasail2Fstatus2F1523262849757290496widget%3DTweet
Verification: The claim that Muskan Khan, the Hijab girl is dead, is a hoax
An image of an injured Kashmiri girl from the year 2017, is falsely shared as Muskan Khan (Hijab Girl) killed. The photo is viral with the claim that Muskan who shook the world with her voice saying Allahu Akbar in India, has been killed by the infidels. This is not true. Check the links and screenshot shared below. The MidDay shared an article on 30th April  2017 with the caption "When the girls come out pelting in Kashmir". Check the screenshot from the same article. The same photo is being circulated with misleading claims.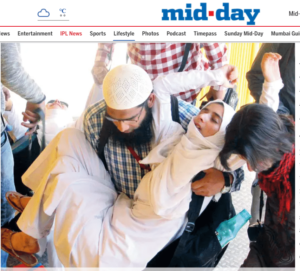 The same photo can also be seen in an article published on rediff.com on 17th April 2017 with the caption "PHOTOS: Students clash with security forces in Kashmir. Check the screenshot from the same link:
The photograph is from a protest that happened in Kashmir in April 2017 when the girl in the photo fell unconscious during the clashes near Women's College, MA Road, in Srinagar. Muskan is doing fine and is in Saudi Arabia with her family. Read more @the quint
We ensure that you are updated with the facts. Please Check4spam before you believe and forward any doubtful image, message, or video. Be cautious, be safe.
---
Find all fact-checking articles about news using Nokiye.com
 Muskan Khan, Hijab Girl, Has Been Killed I Nokiye
---
Post Date: 17 May 2022
Post ID: #80204