[SPAM] THE_RETURN_OF_HISTORY..How Modi Shattered India's Dreams
The shared poster of TIME Magazine equating PM Modi with Hitler, on social media is digital fabrication. The image is not an authentic TIME COVER
Post Information:
The below post has been circulating on social media
THE_RETURN_OF_HISTORY..How Modi Shattered India's Dreams

Same man.#ModiShamesIndia pic.twitter.com/NPPSt99F1l

— Ravi kumar (@Ravikum47425814) June 17, 2022

https://twitter.com/5FaiNpeQR77azW4/status/1537788038566162432?ref_src=twsrc%5Etfw%7Ctwcamp%5Etweetembed%7Ctwterm%5E1537788038566162432%7Ctwgr%5E%7Ctwcon%5Es1_&ref_url=https%3A%2F%2Fpublish.twitter.com%2F%3Fquery%3Dhttps3A2F2Ftwitter.com2F5FaiNpeQR77azW42Fstatus2F1537788038566162432widget%3DTweet
Verification: The shared poster is digital fabrication. TIME Magazine did not share such a cover poster
A poster of an edited photo of PM Modi is being shared claiming it to be from TIME Magazine. The caption is also given to the poster that reads "THE_RETURN_OF_HISTORY…How Modi Shattered India's Dreams" using the hashtag #ModishamesIndia.
This is not true. TIMES did not share any such poster. Checking on google we couldn't find any poster with the viral cover of PM Modi and Hitler in TIME Magazine. In fact, Time Magazine's cover with Modi can be seen here. But there is no poster that seems like a viral poster. However, the cover with the caption  "The Return Of History. How Putin shattered Europe's dream" can be seen in the TIME Tweet which was published on 25th February 2022.
TIME's new cover: How Putin shattered Europe's dreams https://t.co/jXsRFKrW8B pic.twitter.com/hDJs0ptJs0

— TIME (@TIME) February 25, 2022
A similarly edited poster was also shared as a Time Magazine cover featuring Russian President Vladimir Putin and Nazi leader Adolf Hitler and was fact-checked.
New cover of "Time" magazine pic.twitter.com/4kA1DTb5UY

— The New Voice of Ukraine (@NewVoiceUkraine) February 28, 2022
Check out the creator  Patrick Mulder's, (award-winning graphic designer, Voiceover artist. Bookworm, and consequent avid collector of dust. Ceisio cynnal orbit safonol)Tweet where he shows how he created the fabricated image. You can see his art here also. Check the screenshot from the link: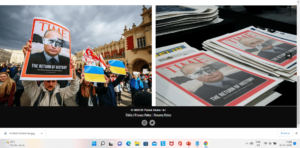 How I made the cover. pic.twitter.com/LFZVOAhNMo

— Peanut Hamper 🏴󠁧󠁢󠁷󠁬󠁳󠁿 (@MrPatrickMulder) February 26, 2022
Patrick Mulder shared a detailed tweet after his creation got viral. Check the tweet below:
My TIME artwork has gone viral – so I thought it would be appropriate for me to write a little about it. The image is one out of a sequence of three I created on the day Russia invaded Ukraine. I felt the official cover by TIME was uninspired and lacked conviction. pic.twitter.com/m5P5rorqgt

— Peanut Hamper 🏴󠁧󠁢󠁷󠁬󠁳󠁿 (@MrPatrickMulder) February 28, 2022
Real TIME COVER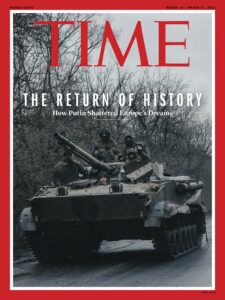 Fake Cover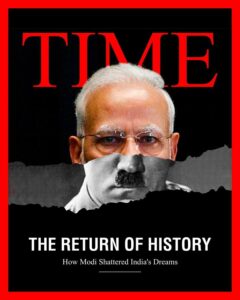 Fake Cover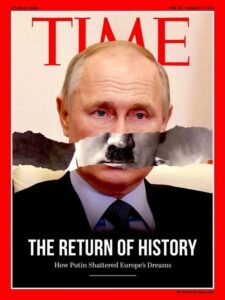 We ensure that you are updated with the facts. Please Check4spam before you believe and forward any doubtful image, message, or video. Be cautious, be safe.
---
Find all fact-checking articles about news using Nokiye.com
THE_RETURN_OF_HISTORY..How Modi Shattered India's Dreams I Nokiye
---
Post Date: 22 June 2022
Post ID: #80367