[SPAM] The State Bank Of India Logo Was Inspired By Kankaria Lake Of Ahmedabad 
An image of a top view of a lake and the SBI logo is shared with the claim that the SBI logo is inspired by Kankaria Lake of Ahmedabad
Post Information:
The below post has been circulating on social media
https://twitter.com/ViratBharat/status/436089703394050048?ref_src=twsrc%5Etfw%7Ctwcamp%5Etweetembed%7Ctwterm%5E436089703394050048%7Ctwgr%5E0b92e8b62de2929a9c3137e92c98ad312ac42cf7%7Ctwcon%5Es1_&ref_url=https%3A%2F%2Fwww.altnews.in%2Fno-state-bank-of-india-logo-was-not-inspired-by-kankaria-lake-in-ahmedabad%2F
Verification: No, SBI Logo Was Not Inspired by Ahmedabad's Kankaria Lake
An image of a top-view map of Kankaria lake of Ahmedabad is circulating on social media with a claim that this lake was the inspiration behind the State Bank of India's (SBI's) logo. In fact, this theory has been floating on the internet for years that can be read here, here. Along with the theories stated in the article, it is also written that the designer of the SBI Logo was Shekhar Kamat.
The current logo of SBI was designed by Shekhar Kamat from the National Institute of Design, Ahmedabad. This logo was released on 1st October 1971, on the day of the inauguration of the SBI Central office building at Backbay Reclamation, Bombay. The logo is designed with a blue circle with a small cut to the centre of the circle at the bottom.
A Facebook post can be seen to know the origin of the State Bank of India's Logo.
In the video when Shekhar Kamat was asked about the internet theory that the SBI logo was inspired by Kankaria Lake, Kamath laughingly says, "This whole thing about Kankaria Lake has got nothing to do with it. I haven't been to Kankaria Lake either. There is no way I could go up and look at it down. I had no idea. And I haven't been that side at all." Check the screenshot from the video"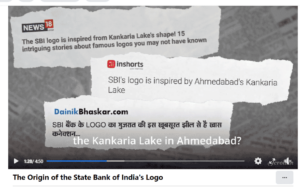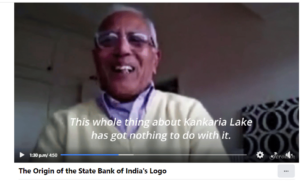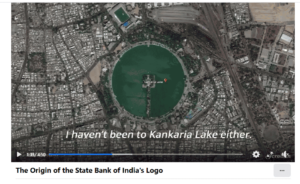 An article in The Hindu Business Line writes:
"Mahendra Patel, former faculty, said a two-member design team was set up for the purpose. Its members were Shekhar Kamath and Vikas Satvalekar, guided by Prof Dashrath Patel, Head of the Design Department. It was not a student assignment but a proper professional faculty assignment for which SBI also paid a fee to NID, he said.
Circle-with-a-keyhole symbol
He said the solid circle-with-a-keyhole symbol, resembling a lock-and-key, was the contribution of Kamath — who is now in Melbourne, Australia — depicting the purpose of the Bank: that SBI, the custodian, would safe-keep the customer's money. The Bank adopted the new motif on October 1, 1971. Mahendra Patel also designed the matching fonts of the title of State Bank of India in nine languages which are being used until now."
SBI Logo is not inspired by Kankaria Lake of Ahmedabad.
We ensure that you are updated with the facts. Please Check4spam before you believe and forward any doubtful image, message, or video. Be cautious, be safe.
---
Find all fact-checking articles about news using Nokiye.com
The State Bank Of India Logo Was Inspired By Kankaria Lake Of Ahmedabad  I Nokiye
---
Post Date: 17 Aug 2022
Post ID: #80547