[SPAM] Swaziland King Mswati III Order Countrymen To Marry 5 Wives Or Be Jailed

This is a fake post circulating with wrong claims about Swaziland King Mswati ordering men to marry more wives. Please read more about it in the verification section of this article.
Post Information:
Below post has been circulating on social media.

This query was sent to us by Kishore Kumar from Bangalore.
Verification: Swaziland King Mswati III denies ordering men to marry more wives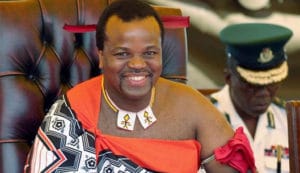 The post circulating on social media is false. The king of Swaziland did not pass any such order. He denies it in the following posts published in THE ZAMBIAN BSERVER and BULAWAYO
Swaziland King Mswati denies ordering men to marry more wives
In a statement published by Swazi Observer, spokesperson to the government, Percy Simelane, the government will continue to appeal for morality, responsible behaviour and professionalism among journalists and indeed, the general public. : Read more
King Mswati denies ordering men to marry more wives
The leader of the Kingdom of Eswatini King Mswati III has denied reports that have gone viral on the internet alleging he has ordered the men of Eswatini to marry more than one wife or face jail term.
In a statement issued on Monday Government Spokesperson Percy Simelane said, "The current dispatch titled marry more wives or face jail quoting the King are not only an insult to the monarchy but a disgrace to journalism
"His majesty has not made any pronouncement to that effect and it has never been an issue raised by Emaswatini."
Simelane said they are demanding the newspaper that broke the story to provide the statement from the King which they quoted from: Read more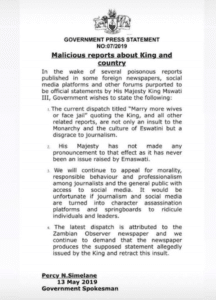 ---
We ensure that you are updated with the facts. Please Check4spam before forwarding and believing any doubtful image, message or video. Be cautious, be safe.
---
Find all fact checking articles about news using Nokiye.com
Swaziland King Mswati Order Countrymen To Marry 5 Wives | Nokiye
---
Post Date: 22 May 2019
Post ID: #72543