[SPAM] Smt Draupadi Murmu And Mohan Bhagwat At The RSS Headquarters Nagpur
An edited image of Draupadi Murmu and Mohan Bhagwat is shared on social media with misleading claims
Post Information:
The below post has been circulating on social media
Smt Draupadi Murmu And Mohan Bhagwat At The RSS Headquarters Nagpur
Verification: Edited images are shared with misleading claims
An image of National Democratic Alliance (NDA)'s presidential candidate Draupadi Murmu praying in front of a Hindu goddess with RSS chief Mohan Bhagwat is being circulated on social media. The caption to the viral post states "Smt Draupadi Murmu visits RSS headquarters to meet Mohan Bhagwat at Nagpur to seek his blessings for her candidature. Have we got any more doubts as to where we are being led from? We are led from the RSS headquarters."
The tweet was shared by Lawyer Prashant Bhushan and was deleted later when he realized that the image was morphed. He wrote "It has been brought to my notice that this photo of Smt Murmu with Mr. Bhagwat might be morphed. I, therefore, am deleting it with apologies to Mrs. Murmu."
In fact, two different photographs from different events are merged and shared with false claims on social media to mislead. Check the links shared below to k ow the fact:
RSS tweet of  March 11 2022 can be seen below. Draupadi Murmu is not in the photograph.
राष्ट्रीय स्वयंसेवक संघ की अखिल भारतीय प्रतिनिधि सभा की बैठक आज गुजरात के कर्णावती में प्रारम्भ हुई। बैठक का शुभारम्भ पू. सरसंघचालक डॉ. मोहनजी भागवत और मा. सरकार्यवाह श्री दत्तात्रेय होसबाले जी ने भारत माता के चित्र पर पुष्पार्चन करके किया। बैठक 13 मार्च को सम्पन्न होगी। pic.twitter.com/gWNk7KwpwZ

— RSS (@RSSorg) March 11, 2022
The tweet below shows Draupadi Murmu and the tweet was shared on 29th December 2020.
आज झारखण्ड सरकार के एक साल पूरे होने के अवसर पर राजभवन में राज्यपाल श्रीमती द्रौपदी मुर्मू जी से मुलाकात की। pic.twitter.com/Si262ts95D

— Hemant Soren (@HemantSorenJMM) December 29, 2020
The image can be seen in an article published on BBC.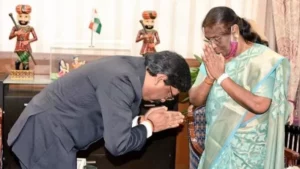 We ensure that you are updated with the facts. Please Check4spam before you believe and forward any doubtful image, message, or video. Be cautious, be safe.
---
Find all fact-checking articles about news using Nokiye.com
Smt Draupadi Murmu And Mohan Bhagwat At The RSS Headquarters Nagpur I Nokiye
---
Post Date: 09 July 2022
Post ID: #80448