[SPAM] मोदी जीत गया तो देश छोड़ दूंगा
This post is circulating on Instagram with misleading claims. Please find more details in this article.
Post Information:
Below post has been circulating on social media.
https://www.instagram.com/p/Bu8bMCKAXDk/?utm_source=ig_share_sheet&igshid=kr1u97v30vza
Verification: Shahrukh Khan, Aamir Khan And Salman Khan Never Said So
While we come across many fake on Twitter, Facebook, Whatsapp, Youtube, Instagram has become another media to spread fake news. Some post photoshopped images, some are memes, some make fun of words spoken by someone mixing them with indecent images or videos. There are number of fake accounts on instagram. It has become easy to morph or photoshop tweets. That is what is being done with such fake viral on instagram. At times memes are used by pranksters to spoil others image.Check this in below morphed tweets: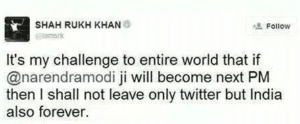 The statement shown in image is not true. Moreover this happened in 2014 as you can check the dates on tweets below. The person who spread the fake news ( Kamaal Khan) himself accepted that it was he who did this fake spread on social media.This was also being investigated in the year 2018 and was published on 29 October 2018 @ Alt News. Still the post date on instagram is 13 March 2019. Already debunked fake news is recently being created in twisted way to fool others. Shahrukh Khan, Salman Khan or Aamir Khan never said that they will leave India if Modi wins. Once again the post is from Instagram account  "modi_again"
The technique of mixing words and images once again  applied and fake post created and posted on Instagram. This is misleading. This affects the reputation and career of people as most of the people dont try to find the truth and believe such hoax.
Check what Shahrukh Khan had to say for this :
Good time to tell all fools who r talking of a tweet that I didn't tweet, u suck as much as the grammar of that fake tweet & I'm being kind.

— Shah Rukh Khan (@iamsrk) May 18, 2014
Below is the truth to the viral fake statement:
Ppl pls note I only said tat I will leave India if Modi Ji will become PM I have left India. SRK Salman or Aamir didn't say anything at all.

— KRK (@kamaalrkhan) May 18, 2014
---
We ensure that you are updated with the facts. Please Check4spam before forwarding and believing any doubtful image, message or video. Be cautious, be safe.
---
Find all fact checking articles about news using  Nokiye.com
Shahrukh Khan Will Leave India | Nokiye
---
Post Date: 17 April 2019
Post ID: #72182