[SPAM] Policemen Shooting Civilians In Kashmir

This is a an old video shared on social media with false claims about policemen shooting civilians in Kashmir. Please read more about it in verification section of this article.
Post Information:
Below post has been circulating on social media.
https://twitter.com/PkSignofPeace/status/1159652552536801281

This video can be old or recent. The world must watch how Indian occupation forces are firing straight bullets on unarmed civilians who are out on streets against violation of the human rights in Indian Occupied Jammu and Kashmir. Criminal silence of the UN has no justification. pic.twitter.com/LaNDz9FAey

— ღ حُـسین ღ (@Peyara_hussain) August 10, 2019
Verification:  Video is from Jharkhand, showing a mock drill by Khunti police.
The video is neither recent nor from Kashmir. It was shared in 2017 and is from Jharkhand, showing a mock drill by Khunti police. On search a similar video was found which was uploaded on 1st November 2017 with caption " Mock drill by Jharkhand's Khunti Police.". The video is viral with different fake captions by people from from various places on twitter and other social media.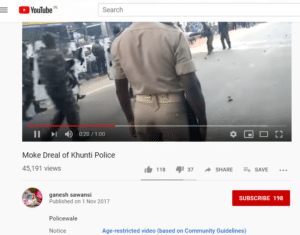 Same video was also viral with fake claim that showed Madhya Pradesh police firing at farmers in Mandsaur. This claim was debunked by Alt News on July 11, 2018.
In this second video titled 'Jharkhand police KHUNTI (part of training) REHEARSAL' uploaded on November 4, 2017, one can view the training exercise from a different angle. The video also shows the protesters chanting slogans.
Generally, Kashmir will have boards written in Urdu. In this video you can see boards that are written in hindi. These small clues should alarm us. Please check screen shorts of the image on google to know more about fake informations shared on social media.
Read more @ Boomlive, @ Altnews
---
We ensure that you are updated with the facts. Please Check4spam before forwarding and believing any doubtful image, message or video. Be cautious, be safe.
---
Find all fact checking articles about news using Nokiye.com
Policemen Shooting Civilians In Kashmir I Nokiye
---
Post Date: 25 Aug 2019
Post ID: #73531