[SPAM] Nagapushpa – A Rare Himalayan Flower That Blooms Once Every 36 Years
An image of Sea Pen, an invertebrate marine creature is shared with false claims on social media claiming it to be Nagapushpa
Post Information:
The below post has been circulating on social media
"This is naga push flower in Himachal Pradesh that flowers once in 36 years 

Nagapushpa – a rare Himalayan flower that blooms once every 36 years. #wildlifephotography #NaturePhotography #nature #himalayan #Flowers g642 pic.twitter.com/MIOXqrQ3mg

— Melodee L. St. James (@MelsBracelets) June 4, 2022
Verification: The image is of an invertebrate marine creature, Sea Pen 
An image of Sea Pen, an invertebrate marine creature is shared with false claims on social media claiming it to be Nagapushpam. The claim is "Nagapushpa – A Rare Himalayan Flower That Blooms Once Every 36 Years." This is not true. The image was also shared earlier with false claims and was fact-checked. Check4Spam debunked the same false claim shared for a plant named Cobra Lilly Plant. Gordon J. Bowbrick captured the image in 2013 and he identified the creature as a Sea Pen. Africa Check shared the facts about the misleading claims about the image of the Marine creature Sea Pen.
In fact, Sea Pens are aquatic animals that look like a feather and thus are also known as Feathers Of the Sea. Sea Pen is an octocoral or soft coral. Check the links shared below to know the facts:
Check out the video shared below to know more about the Sea Pen:
The same image of the Sea Pen can be seen here. The name of the photographer (Gordon J. Bowbrick) is written below the image. Photographer captured the image in the year 2013. Check the link. The screenshot from the link on reddit.com is shared below: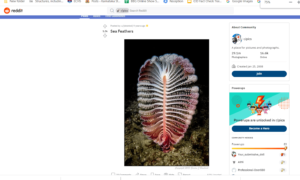 Now check the flower that is actually known as Nagapushpa in the video shared below:
Read more @Snopes
We ensure that you are updated with the facts. Please Check4spam before you believe and forward any doubtful image, message, or video. Be cautious, be safe.
---
Find all fact-checking articles about news using Nokiye.com
Nagapushpa – A Rare Himalayan Flower That Blooms Once Every 36 Years I Nokiye
---
Post Date: 14 June 2022
Post ID: #80344