[SPAM]

 Muslims Were Behind The Sabarimala Petition

The video of activist Trupti Desai being greeted after the Sabarimala verdict is being circulated with a misleading caption on social media. Please find more details at the verification section of this article.
Post Information:
Below post has been circulating on social media.
Muslims were behind the petition to erase the centuries old diktat barring women of menstruating age from entering the Sabarimala Ayyappa Temple in Kerala.
Verification:
Activist Trupti Desai, founder of Bhumata Brigade, (Social Justice Organization based in Pune), after the Sabarimala Verdict on 28 September 2018 was felicitated by people from different communities and religions. She has been fighting for the entry of women in temples and Dargah. She opened the doors for women at Shani Shignapur in Maharashtra, Trimbakeshwar in Nashik and Haji Ali Dargah in Mumbai. People shown in video are congratulating her for her achievement on gender equality. She did not file any petition.  There is no such information of Muslims being behind all this. These are  false captions under which the video and pictures are being circulated on social media. Read more at Boomlive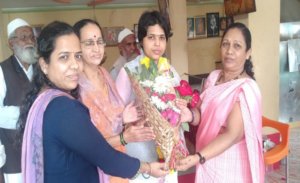 ---
Find fact checking articles on this topic using Nokiye.com
Sabarimala Petition | Nokiye.com
---
Post Date: 01 oct 2018
Post ID: #69520
Thank You for visiting Check4Spam. Please write a comment at this article if you like our service.