[SPAM] Muslim Leader Of Congress Arrested In Assam For Plotting Attack On Hindus
Two years old images from Bangladesh and Kashmir are again shared with false claims on social media
Post Information:
Below post has been circulating on social media.
Muslim Leader Of Congress Arrested In Assam For Plotting Attack On Hindus
Verification: Two years old images from Bangladesh and Kashmir are shared with false claims
The post with the same images was shared earlier too and was debunked by various fact-checking organisations. Now again the same old images are shared with fake claims on social media.
People have shared three photos which they claim "Congress leader from Assam Amjat Ali arrested with weapons and bullets in apple boxes. He was planning to kill kafirs. Police caught him. Hindus, they are fully prepared" (Translated to English). In fact, the claim is not true. The photos used in the post are old, unrelated images from Kashmir and Bangladesh. The uniform of the officers standing beside the man closely resembles that of Bangladesh and not India.
The post with false claims with the same images was debunked by Boomlive two years back.
The images shared with false claims are old and the facts about the images can be seen in links shared below:
The man in the image is Mobarak Hossain who is a local madrasa teacher from Trishal Upazila of Mymensingh district in Bangladesh. He was arrested for allegedly sexually harassing a minor girl, who later killed herself. The news is two years old.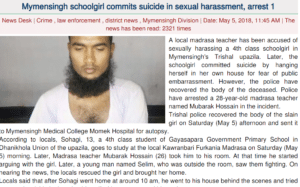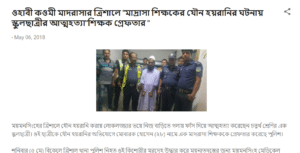 There is no such news of the arrest of any Muslim leader of Congress with weapons in Assam recently. The image in a viral post can be seen in the tweet shared by J&K Police in its Twitter account on October 29th 2018. It is a two years old tweet.
A brief exchange of fire on the outskirts of Srinagar city. Three suspected militants arrested among them one is injured.Arms and ammunition recovered. Investigations started. pic.twitter.com/lT9AoRnu5H

— J&K Police (@JmuKmrPolice) October 29, 2018
We ensure that you are updated with the facts. Please Check4spam before you believe and forward any doubtful image, message or video. Be cautious, be safe.
---
Find all fact-checking articles about news using Nokiye.com
Muslim Leader Of Congress Arrested In Assam For Plotting Attack On Hindus I Nokiye
---
Post Date: 11 Nov 2020
Post ID: #77949