[SPAM] Modi Exposes Communal Face Of Indian Judiciary

This post is shared on social media with false claims and fake signature of PM Modi. Please read more about it in the verification section of this article.
Post Information:
Below post has been circulating on social media.
PM India Narendra Modi writes a congratulatory letter to the Chief Justice & his bench for upholding & contributing the Hindu Rashtra.
One of its kind!!

PM India Narendra Modi writes a congratulatory letter to the Chief Justice & his bench for upholding & contributing the Hindu Rashtra.
One of its kind !! pic.twitter.com/2eYNIXofYk

— Teymur Syed (@TeymurSyed) November 12, 2019
Babari Mosque: Modi Exposes Communal Face of Indian: Read more
Verification: The letter is fake with fake signature of PM Modi
On search using Search google image, we found this letter was published on two articles from Kashmir. The articles were published in Kashmir Media Service and in ACE News Kashmir with false claims and fake signatures of PM Modi on a letter, claiming about that the exposure was made by Narendra Modi in a letter to the Chief Justice of India, Ranjan Gogoi, and other members of the bench that gave the verdict in Ram Mandir-Babri Masjid case on Saturday. In the letter Modi congratulated the bench members for their contribution in the Hindu Rashtra. The articles can be read at the links shared below:
Modi himself exposes communal face of Indian judiciary: Read more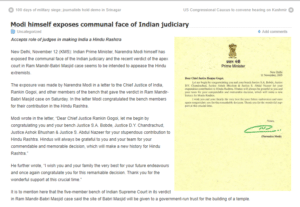 Babari Mosque: Modi Exposes Communal Face of Indian Judiciary: Read more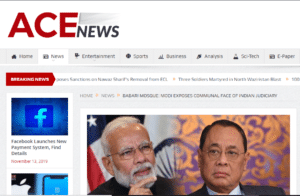 Fact:
A couple named Yuvraj and Sakshi Agarwal got married on 17 January 2019. Invitation card was a special attraction to this wedding. Prime Minister Modi sent them wishes through mail. Please have a look at the invitation card: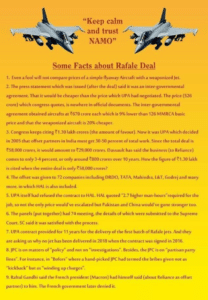 गुजरात: शादी के कार्ड पर छापा राफेल, पीएम मोदी ने दी बधाई, वायरल हो रही तस्वीरें: Read more 
शादी का स्वागत समारोह गत 17 जनवरी को सूरत में हुआ, इसी दिन प्रधानमंत्री मोदी के कार्यालय से एक मेल आया जिसने पोखरणा परिवार की खुशियों को चार चांद लगा दिया। पीएम मोदी ने डॉ बबीता प्रकाश पोखरणा को संबोधित करते हुए लिखा कि विवाह के कार्ड पर राफेल का फोटो व उससे जुडी जानकारी छापकर आपने मेहमानों को इस मुद्दे पर जागरुक किया है जो आपके देश प्रेम को दर्शाता है, यह मुझे भी देश के लिए कड़ी मेहनत करने को प्रेरित करेगा
We shared above story with you to know about PM Modi's signature style and the way the letter is written. When we compare the real letter with fake post, there are many things missing in the fake letter. Below is the email from PM Modi bestowing his wishes for the couple. Check the signature. If we compare the signatures in fake letter and the real mail, we can see the difference. Thus that's the first indication that the article shared on social media, Kashmir Media Service and  ACE News Kashmir is fake.
But there are few intricacies that can help catching the faults. Every person has a unique style of signature.  Also there are lot of loopholes in fake post. As Modi Ji always addresses anyone with "Ji", is missing in the fake letter.
The gaps between few words also indicate that the letter is absolutely not authentic and not at all official. In real letters by PM Modi, it is observed that the name and the address of recipient is mentioned whereas in fake letter this practice is not observed. The texture and colour of the background in the fake letter is very different from the real one. The fake letter does not have saffron border at the end whereas it is visible in real ones.
The word 'commendable' is spelt as 'compendable'.These are very important clues that suffice that the post circulating is totally fake and misleading. Be very careful while you get such kind of  information on social media. Always check on fact checking sites to know more about it or put a query to any fact checking site or organisation. Forgery is very easy but it is an offence.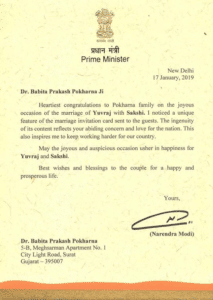 One more proof through a real letter shared by PM Modi with Gautam Gambhir on his contribution in sports. The signature is different, the name and address of Gautam Gambhir is mentioned, saffron border is visible exactly as in the letter the wedded couple got in mail from PM Modi.
Thanks @narendramodi @PMOIndia for the kind words. Nothing of this would have been possible without love and support of our fellow countrymen. All these deeds are dedicated to our country. pic.twitter.com/3P3HcViIJ5

— Gautam Gambhir (@GautamGambhir) December 16, 2018
Check the twitter account of Biking Queens Official- Dr Sarika Mehta. She shared the letter she received from PM Modi. Please check the signature of Modi Ji and the name and address of the recipient is mentioned below. Now compare this with fake letter. Signature varies and the address and the name of recipient is not mentioned in fake letter.
https://twitter.com/SarikaMehta3613/status/862524384300343297
It is not very difficult to find out the facts behind such posts. Just give a thought and search for the truth using some simple tools provided on internet like we did by simply typing "PM Modi signature" and got to see many such genuine posts where we could find real signature of Modi Ji
Read more @ Boom Live
Know more about Forgery:
https://youtu.be/WklPu9TXbqU
---
We ensure that you are updated with the facts. Please Check4spam before forwarding and believing any doubtful image, message or video. Be cautious, be safe.
---
Find all fact checking articles about news using Nokiye.com
Modi Exposes Communal Face Of Indian Judiciary I Nokiye
---
Post Date: 14 Nov 2019
Post ID: #74309