[SPAM] India's Independence Day Celebrations In London
This is a fake post circulating about India's Independence Day celebrations in London. Please read more about it in the verification section of this article.
Post Information:
Below post has been circulating on social media
Request everyone to watch this 1 minute video without miss.
This is an amazing forward from Trafalgar square, London during the celebration of India's Independence Day.Jai Hind

https://youtu.be/pd7eD025Syw

https://www.facebook.com/pss.nil/videos/498288020924759/
Verification: The video is not of India's Independence Day celebrations in London.
Video from Italy is shared with false captions on various platforms on social media. Before believing, look at the video carefully, note the building. Search the images on google. The facts will be clear with little effort. We searched the same way and found that the building is in Italy. small observation can lead you to the facts. The old video from Italy celebrating its Republic day is shared falsely. The video has nothing to do with India's Independence Day celebration and it is a clip of Italy's Republic Day ceremony in Rome. Check the links below
72° anniversario Repubblica Italiana… oggi come ieri #unitiperilPaese!
Aspettando il #2giugno, i Reparti dell'#AeronauticaMilitare che parteciperanno alla rivista e informazioni dal portale #MinisteroDifesa: https://t.co/2Yh3aQ9uq9#FestadellaRepubblica #FestadegliItaliani pic.twitter.com/fCn2jyluHR

— Aeronautica Militare (@ItalianAirForce) May 31, 2018
Vittorio Emanuele II Monument, Rome, Italy: Read more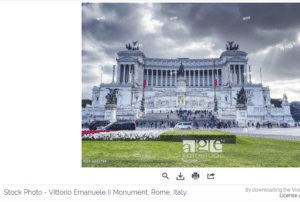 The Italian Frecce Tricolori aerobatic squad perform during the ceremony marking the Republic Day in Rome, Italy, on June 2, 2018. (Xinhua/Alberto Lingria): Read more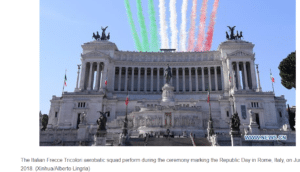 Search Google Images: Read more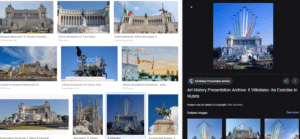 The post claims to be from Trafalgar Square, London. Please check the link below to know how Trafalgar square looks like. There is no resemblance to the building shared in the viral post:
Trafalgar Square, London: Read more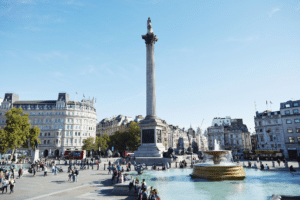 Browse 1,400 Italy celebrates republic day stock photos and images available or start a new search to explore more stock photos and images. Read more
We ensure that you are updated with the facts. Please Check4spam before forwarding and believing any doubtful image, message or video. Be cautious, be safe.
---
Find all fact-checking articles about news using Nokiye.com
India's Independence Day Celebrations In London  I Nokiye
---
Post Date: 19 Aug  2019
Post ID: #73493