[SPAM] Honorable Chief Justice Of Karnataka High Court Blasted Pro-Hijab Advocate 
A video clip of a live court hearing is shared with false claims attributing it to the Hijab row
Post Information:
The below post has been circulating on social media
Honorable Chief Justice Of Karnataka High Court Blasted Pro-Hijab Advocate

https://twitter.com/yvs_raizada/status/1505536669138644993?ref_src=twsrc%5Etfw%7Ctwcamp%5Etweetembed%7Ctwterm%5E1505536669138644993%7Ctwgr%5E%7Ctwcon%5Es1_&ref_url=https%3A%2F%2Fpublish.twitter.com%2F%3Fquery%3Dhttps3A2F2Ftwitter.com2Fyvs_raizada2Fstatus2F1505536669138644993widget%3DTweet
Verification: The video clip of the live court hearing is not from the Hijab row
A video is viral on social media with the claim "Hon CJ of Karnataka HC blasting the pro #Hijab advocate during the hearing of this controversy.". and "The High Court stripping the Lawyer who was defending the petitioners on Hijab …. People must know how serious is this issue and how Foolish the Lawyer to bring this up to CJI Karnataka .. Great. Salute to CJI Karnataka.". A video of the different context is being shared with misleading claims on Facebook and Twitter to suggest that the matter was related to the Hijab row. Check the links shared below to know the facts:
The real video can be seen here and the clues from the viral video can be correlated with the real video shared by the High Court Of Karnataka Live Telecast of the hearing on 3rd March 2022. Check the original video shared below.
The position of the lawyer and the people around are the same in the viral video. The time at that moment on the wall clock is the same i.e.11:15 AM at 0.04 in the viral video and at  34.4 in the original video. Moreover, the three-judge bench comprises Chief Justice of Karnataka HC Ritu Raj Awasthi, Justice Krishna S Dixit, and Justice JM Khazi whereas in the viral video only two judges are shown. Hence there is no way the viral video is related to the Hijab row.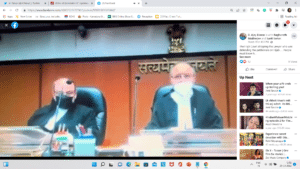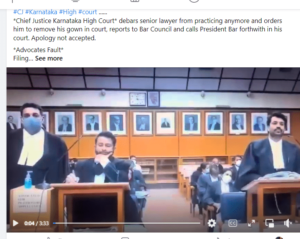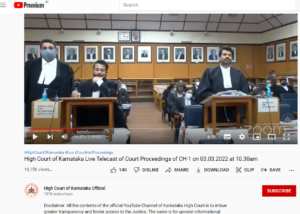 Read more @AltNews
We ensure that you are updated with the facts. Please Check4spam before you believe and forward any doubtful image, message, or video. Be cautious, be safe.
---
Find all fact-checking articles about news using Nokiye.com
Honorable Chief Justice Of Karnataka High Court Blasted Pro-Hijab Advocate  I Nokiye
---
Post Date: 21 March 2022
Post ID: #79930