[SPAM] Holding Breath For Continuous 10 Seconds Without Any Discomfort Can Get Rid Of Coronavirus
The viral post claims that if a person holds his/her breath for continuous 10 seconds without any discomfort, he/she can get rid of coronavirus
Post Information:
The below post has been circulating on social media
Holding Breath For Continuous 10 Seconds Without Any Discomfort Can Get Rid Of Coronavirus

https://youtu.be/ICQCZ4YOMVw

https://youtu.be/w9lO1PwGgZE
Verification: Holding breath for 10 sec does not get you rid of Corona
The message is going viral on social media. The viral post claims that if a person holds his/her breath for continuous 10 seconds without any discomfort, he/she can get rid of coronavirus. This is a fake post. Do not trust any such post that is going viral over social media. If any problem persists ask your doctor. Check the link shared below to know the facts:
एक मैसेज में दावा किया जा रहा है कि यदि आप बिना किसी असुविधा के 10 सेकंड के लिए अपनी सांस रोक सकते हैं, तो आप #कोरोनोवायरस के संक्रमण से मुक्त हो सकते हैं#PIBFactCheck: यह दावा #फ़र्ज़ी है।
सांस रोककर, ऑक्सिजन लेवल चेक करके #COVID19 की जांच नहीं की जा सकती है। pic.twitter.com/hc771d24Wn

— PIB Fact Check (@PIBFactCheck) May 7, 2021
World Health Organization (WHO) clarified Being able to hold your breath for 10 seconds or more without coughing or feeling discomfort DOES NOT mean you are free from coronavirus disease or any other lung disease.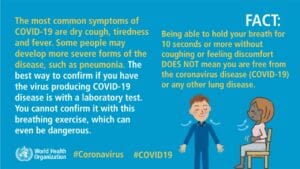 Video shared below is a set of exercises that can help increasing lung capacity:
We ensure that you are updated with the facts. Please Check4spam before you believe and forward any doubtful image, message, or video. Be cautious, be safe.
---
Find all fact-checking articles about news using Nokiye.com
Holding Breath For Continuous 10 Seconds Without Any Discomfort Can Get Rid Of Coronavirus I Nokiye
---
Post Date:  May 2021
Post ID: #78656