[SPAM] Kerala Is Taking Baby Steps To Become Another Kashmir!

Genuine images from Malappuram Kerala are shared with misleading claims. Please read more about it in the verification section of this article.
Post Information:
Below post has been circulating on social media.
Kerala Is Taking Baby Steps To Become Another Kashmir!

https://twitter.com/ShobhaBJP/status/1220006329768538112
Verification: Shobha Karandlaje shared false and misleading post
Karnataka BJP MP Shobha Karandlaje shared the post with false claims. Many other people also shared the fake post with fake claims on social media. The water was supplied to Malappuram as there was water scarcity at the bore well, so the people were asked to find other place for water supply. Hindus of Kuttipuram Panchayat were not denied of water for any other reason. The pictures shown are genuine but  the story and captions are manipulated.
Check the links below to know the facts:
According to the police, there has been water crisis in the area for almost a year.
"The panchayat has not been able to provide water since almost a year due to bore well issues. A private bore well was used to supply water, but they stopped the supply because they got a warning from Kerala State Electricity Board saying the motor usage is for electricity purpose and if used for other purpose, will be disconnected," police officer Aravind said.
The case has been registered against Karnataka BJP MP Shobha Karandlaje and others by Kerala Police for a tweet claiming that Hindu families in the state's Malappuram district are not being given water because they supported the Citizenship (Amendment) Act or CAA.
Kerala police register case against BJP MP Shobha Karandlaje u/s 153(A) of IPC (promoting enmity between different groups on grounds of religion, race etc) for her tweet on 22 Jan, "Hindus of Kuttipuram Panchayat of Malappuram were denied water supply as they supported CAA 2019". pic.twitter.com/3r8F23pcXn

— ANI (@ANI) January 23, 2020
Case Against Karnataka BJP MP In Kerala For 'No Water For Hindus' Tweet: Read more @ NDTV
I'm from that place. This message is made in the factory of RSS. We live in harmony and peace, sharing our resources. I challenge you to show me one hindu brother denied water supply…we know how hatred mongers spread news..

— salim (@salimmohamed) January 22, 2020
Sharing screenshots of comments from the post. These comments convey that the shared tweet is not true: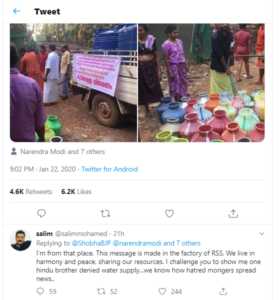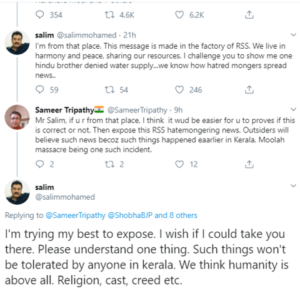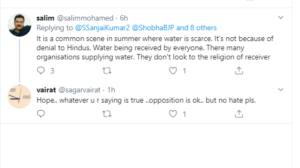 ---
We ensure that you are updated with the facts. Please Check4spam before you believe and forward any doubtful image, message or video. Be cautious, be safe.
---
Find all fact checking articles about news using Nokiye.com
Hindus denied water in Kerala I Nokiye
---
Post Date: 29 Jan 2020
Post ID: #75024