(
SPAM

) Dog Meat used at Hotel Shah Ghouse

This is a false news. Greater Hyderabad Municipal Corporation (GHMC) health officers and food inspectors inspected the hotel, collected food samples and sent them for lab tests.

*** WARNING: PICTURES OF DEAD ANIMALS BELOW  ***
Post Information:
Below posts have been circulating social media.
Shah Ghouse Hotel HYDERABAD owner arrested for adding Dog's meat in Biryanis.
Old City branch and Tolichowki Branches

हैदराबाद  के शाह घोसे रेस्टारेन्ट मे पुलिस का छापा  मटन  बिरयानी मे कुत्ते का मटन मिलाने का मामला सामने आया
Verification:
24th December 2016
Police arrested the person who spread the rumour. Please find more details at the Youtube reports below.
16th December 2016
First of all, the pictures circulating of dog meats itself may not be from India. Those are mostly pics from somewhere in Middle East. We could trace a twitter post with the same pics dated 4th December 2016 from an account from Middle East.
The fact that this twitter post from outside India was dated 4th Dec 2016 and this rumour was around a later date itself is a proof that its not as claimed to be from Shah Ghouse.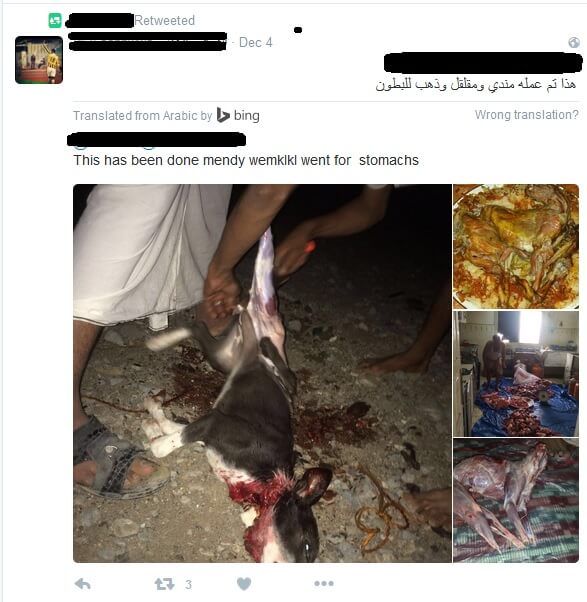 After the rumour of dog meat used at Shah Ghouse hotel, Hyderabad, Greater Hyderabad Municipal Corporation (GHMC) health officers and food inspectors inspected the hotel, collected food samples and sent them for lab tests.
Please read more at the links below:
http://www.thehindu.com/news/cities/Hyderabad/Meat-sample-picked-up-from-hotel-after-rumours-of-dog-meat/article16803937.ece
---
Please note that the same pictures and news is now circulating against another restaurant in Malaysia.
It says (translated),
"Be careful, all Muslims friends when having soup. More and more mamak restaurants in Kuala Lumpur and Kulim are using dog meat. This is because many of the restaurant workers are Hindu."
Mamak Restaurant is also trying hard to show this is a fake news.
http://www.freemalaysiatoday.com/category/nation/2016/12/16/we-dont-serve-dog-meat-assert-mamak-restaurants/
Post Date: 16 Dec 2016
Post ID: #1732
Thank You for visiting Check4Spam. Please write a comment at this article if you like our service.