[SPAM] Consequences Of A Positive PCR Test At  Chinese Airport
An unrelated video is being shared on social media with the claim "consequences of a positive PCR test at  Chinese airport
Post Information:
The below post has been circulating on social media
Consequences Of A Positive PCR Test At A Chinese Airport

https://twitter.com/WallStreetSilv/status/1573110111953977344?ref_src=twsrc%5Etfw%7Ctwcamp%5Etweetembed%7Ctwterm%5E1573110111953977344%7Ctwgr%5E67c475e5f6f1c4a1e0aea3216709fa89a5064b48%7Ctwcon%5Es1_&ref_url=https%3A%2F%2Fpublish.twitter.com%2F%3Fquery%3Dhttps3A2F2Ftwitter.com2FWallStreetSilv2Fstatus2F1573110111953977344widget%3DTweet
Verification: Video shows the arrest of smugglers at Gongbei customs in Zhuhai, Guangdong provinces
An unrelated video is being shared on social media with the claim "consequences of a positive PCR test at a Chinese airport." This is not true. In fact, the video has nothing to do with the Chinese PCR test. The false information is being shared by Wall Street Silver. it's a clip of the police arresting smugglers at Gongbei Customs in Zhuhai, Guangdong Province. Have a look at the original footage on CHUCHU Channel. As per the description on the video police were arresting smugglers. In any case, the video does not show the treatment for the people who tested positive for PCR tests.
A shorter clip of the video is being shared with misleading claims: Check the screenshot from the actual video: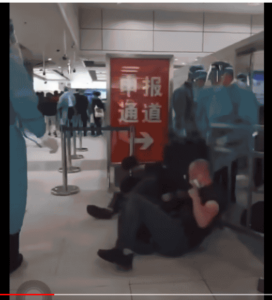 Unrelated video is shared with false claims, connecting it to PCR test and thus the treatment on Chinese Airport.
We ensure that you are updated with the facts. Please Check4spam before you believe and forward any doubtful image, message, or video. Be cautious, and be safe.
---
Find all fact-checking articles about news using Nokiye.com
Consequences Of A Positive PCR Test At A Chinese Airport I Nokiye
---
Post Date:  03 Oct 2022
Post ID: #80732