[SPAM] Mosque In Bangalore Named After Narendra Modi

The post circulating on social media about Mosque being named after Pm Narendra Modi is not true. Please read more about it in the verification section of this article.
Post Information:
Below post has been circulating on social media.
https://twitter.com/mahesh10816/status/1141277955978514433

Bohra Muslims inaugurate a new mosque in the name of Narendra Modi in Bengaluru

https://www.facebook.com/veerakesari.in/posts/1353007311524488
Verification: Mosque in Bangalore is not named after Narendra Modi
This trend of MIX & MATCH  to create MISLEADING MISMATCH by some mischief people for malicious agenda is creating chaos on social media.
Modi Masjid in Shivaji Nagar, Bengaluru is a century old Sunni masjid, which is being renovated and is reopened recently on 29th April 2019. The old Modi masjid was built over more than hundred year ago by Abdul Gafoor Modi, who was a well-known philanthropist of the time. The masjid is named after Abdul Gafoor Modi.
Please see the video published by Bangalore Times. Also read the comments below the video on youtube.
Check the youtube video published by View Live Tv. You can see the name of Mosque is written as Modi Abdul Gafoor Masjid:
Comments on the video also convey that the confusion may appear due to the name of Masjid, so the name should be changed to Modi Abdul Gafoor Masjid.
"मस्जिद कमेटी से गुज़ारिश है के इस मस्जिद का नाम मोदी मस्जिद के बजाए पूरा नाम "मोदी अब्दुल गफूर मस्जिद" ही रखे वरना कुछ फिर्का परस्तो को फितना फैलाने का एक और मौका मिल जाएगा।"
The image of  PM Narendra Modi in other picture is taken from his visit to Bohra Masjid.  P M Modi visited Bohra Mosque in 2018.
PM attends Ashara Mubaraka, organized by Dawoodi Bohra Community:
The image is being photoshopped and shared with wrong claims on various social media. Two different images from different events have been used to create post with fake claims. Please see the image and the link shared below:
VHP questions PM Modi's visit to Bohra mosque: Read more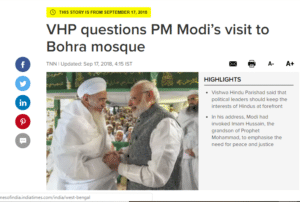 ---
Find all fact checking articles about news using Nokiye.com
Modi Masjid I Nokiye
---
Post Date: 21 June 2019
Post ID: #72888