[SPAM] Your Brutal Army Kills Innocent And Unarmed Kashmiris

This is a post circulating with wrong claims on old images by Pakistani journalist. Please read more about it in the verification section of this article.
Below post has been circulating on social media.
https://twitter.com/ameerabbas84/status/1157921570138054656
Verification: Unrelated images with false claims shared by Pakistani journalist
Pakistani Journalist shared images from yesteryears and pasted them under false claims. Please go through the links shared below that will clarify the facts to the images used.
1st image:
Fact:
Rawya Abu Jom'a was wounded during the 2014 war in #Gaza. Credit: Heidi Levine راوية ابو جمعة من #غزة عقب اصابتها pic.twitter.com/WGCctdCZwS

— Ramy Abdu| رامي عبده (@RamAbdu) March 27, 2015
2nd image: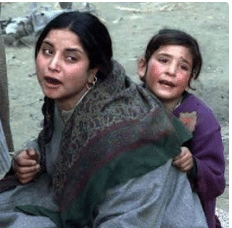 Fact:
Kashmir is a Flashpoint
Publish Date: 21-02-12 4:40 PM
Kashmiri girls cry over the detention of their relative
By Brig Asif Haroon Raja 21. Feb, 2012
Under the partition plan worked out by the British in June 1947, the 600 princely states had been given the choice of either joining up with India or Pakistan, giving credence to communal demographic milieus and geographic proximity. India in connivance with British Viceroy Lord Mount Batten annexed all the princely states including Junagadh, Hyderabad Deccan and Manavadar whose Muslim rulers had desired accession to Pakistan. India annexed these states on the pretext of communal affinity and contiguity. However, the same approach was not adopted in Kashmir which was heavily Muslim populated and contiguous to Pakistan but was ruled by an autocratic Hindu Dogra Maharaja Hari Singh.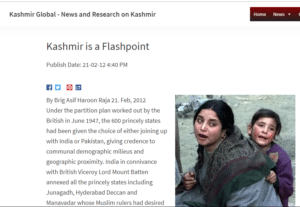 Read more @ Altnews
---
We ensure that you are updated with the facts. Please Check4spam before forwarding and believing any doubtful image, message or video. Be cautious, be safe.
---
Find all fact checking articles about news using Nokiye.com
Your Brutal Army Kills Innocent And Unarmed Kashmiris I Nokiye
---
Post Date: 7 Aug 2019
Post ID: #73358