[SPAM] Photos Of Recent 7.2 Magnitude Earthquake That Strikes Off East Cost Of Taiwan 
Old photos are shared claiming them to be from the earthquake that hit Taiwan recently
Post Information:
The below post has been circulating on social media
Photos Of Recent 7.2 Magnitude Earthquake That Strikes Off East Cost Of Taiwan

7.2 magnitude earthquake strikes off east cost of Taiwan#earthquake #taiwan pic.twitter.com/igwzkTKYxn

— World People Awesome (@World_Peopleosm) September 20, 2022

https://twitter.com/DarjeelingVoice/status/1571487218887438337?ref_src=twsrc%5Etfw%7Ctwcamp%5Etweetembed%7Ctwterm%5E1571487218887438337%7Ctwgr%5E300b44b9414d3cb67c591844dcb947bbe69649c4%7Ctwcon%5Es1_&ref_url=https%3A%2F%2Fpublish.twitter.com%2F%3Fquery%3Dhttps3A2F2Ftwitter.com2FDarjeelingVoice2Fstatus2F1571487218887438337widget%3DTweet
Verification: The photo shared is from the year 2018 when Taiwan was hit by an earthquake
Photo of the earthquake in Taiwan in the year 2018 is being shared as recent on Facebook and Twitter. Tsunami warning issued as 6.9M earthquake hits Taiwan. Check the details of the recent earthquake in the video shared below:
Old photos are shared claiming them to be from the earthquake that hit Taiwan recently. Check the links shared below to know the facts:
On 6 February 2018, an earthquake of magnitude 6.4 on the moment magnitude scale hit Taiwan. The epicenter was on the coastline near Hualien, which was the most severely affected area, with a maximum felt intensity of VIII (Severe) on the Mercalli intensity scale. At least 17 deaths were reported, with 285 injured. The maximum foreshock was recorded on 4 February 2018, at 21:56:40. The epicenter was located at Hualien County, Taiwan, reaching a scale of ML 5.8. In the youtube video shared by South China Morning Post, the date is 9th February 2018.
Check the screenshot from the video above and from the viral post:
Screenshot from the video from 2018: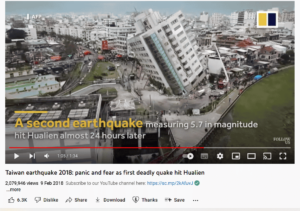 Viral photo claiming to be recent: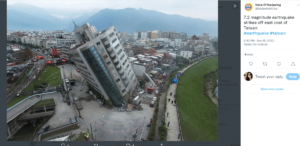 Old photos from the year 2018 are shared as recent on social media claiming them to be from recent earthquacke in Taiwan.
We ensure that you are updated with the facts. Please Check4spam before you believe and forward any doubtful image, message, or video. Be cautious, and be safe.
---
Find all fact-checking articles about news using Nokiye.com
 Photos Of Recent 7.2 Magnitude Earthquake That Strikes Off East Cost Of Taiwan  I Nokiye
---
Post Date: 21 Sep 2022
Post ID: #80681