[SPAM] ਬੈਟਰੀ ਚਾਰਜ ਵਾਲੀ ਸਕੂਟਰੀ ਚ ਧਮਾਕਾ" ( Explosion In A Battery Charged Scooter)
A CCTV footage of a scooter bursting into flames because of the firecrackers loaded on it is viral on social media with false claims that it is an electrical scooter
Post Information:
The below post has been circulating on social media
ਬੈਟਰੀ ਚਾਰਜ ਵਾਲੀ ਸਕੂਟਰੀ ਚ ਧਮਾਕਾ" ( Explosion in a battery charged scooter)
Verification: The bike in CCTV footage is from Tamil Nadu and it's not an electric vehicle
A CCTV footage of a scooter bursting into flames because of the firecrackers loaded on it is viral on social media with false claims that it is an electrical scooter. It is written in Punjabi "ਬੈਟਰੀ ਚਾਰਜ ਵਾਲੀ ਸਕੂਟਰੀ ਚ ਧਮਾਕਾ" that translates as Explosion in a battery charged scooter" in English. The footage is from Tamil Nadu. The video footage has the logo of PTC News. PTC News Punjabi showed the same video posted on November 6, 2021. The caption with the video in Punjabi translates to, "A father and son were carrying firecrackers in a scooter when the blast killed them both in Puducherry" and there is no mention of an explosion caused due to a battery-operated vehicle.
The incident happened due to the firecracker explosion. They were riding a Yamaha Fascino model, not an electric scooter as mentioned in the viral post.
The news report with the same viral video was published on NDTV on 5th Nov 2021 that says " Tamil Nadu: A man and his son were charred to death in Tamil Nadu's Villupuram district on Thursday after the country-made firecrackers they were carrying on a two-wheeler exploded. The incident was reported in the Villupuram district on Thursday when Diwali was being celebrated across the country."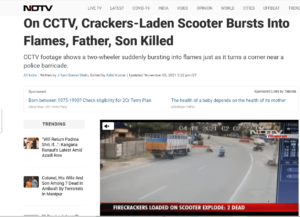 Hindustan Times also published the details of the same news on 4th Nov 2021 that says "Deputy superintendent of Kottakuppam police station said "The crackers are made in Puducherry. Though it is a licensed unit, these crackers are mostly banned and are far from the approved green crackers."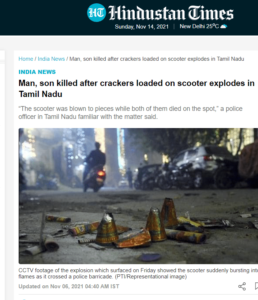 We ensure that you are updated with the facts. Please Check4spam before you believe and forward any doubtful image, message, or video. Be cautious, be safe.
---
Find all fact-checking articles about news using Nokiye.com
ਬੈਟਰੀ ਚਾਰਜ ਵਾਲੀ ਸਕੂਟਰੀ ਚ ਧਮਾਕਾ" ( Explosion In A Battery Charged Scooter) I Nokiye
---
Post Date: 14 Nov 2021
Post ID: #79391