[SPAM] हिन्दुओं को गौमूत्र, मुसलमानो के लिए "बीफ" बिरयानी का मसाला. लगता है लाला रामदेव भी हिन्दुओं को पागल समझता है
An edited image of food packet with Baba Ramdev's name on it is shared to mislead
Post Information:
The below post has been circulating on social media
हिन्दुओं को गौमूत्र, और मुसलमानो के लिए "बीफ" बिरयानी का मसाला. लगता है लाला रामदेव भी हिन्दुओं को पागल समझता है

https://twitter.com/bhadouria_arti/status/1572538279639281664?ref_src=twsrc%5Etfw%7Ctwcamp%5Etweetembed%7Ctwterm%5E1572538279639281664%7Ctwgr%5E3d239090dfa650f9887587b5679fffbd4d2da316%7Ctwcon%5Es1_&ref_url=https%3A%2F%2Fpublish.twitter.com%2F%3Fquery%3Dhttps3A2F2Ftwitter.com2Fbhadouria_arti2Fstatus2F1572538279639281664widget%3DTweet
Verification: An image of a food packet with Ramdev written on it is not from Patanjali by Baba Ramdev
An edited image of a Beef Biriyani recipe mix is being shared on Social media with false claims "हिन्दुओं को गौमूत्र, और मुसलमानो के लिए "बीफ" बिरयानी का मसाला. लगता है लाला रामदेव भी हिन्दुओं को पागल समझता है." It conveys that the packet is from the Patanjali Ayurveda company founded by Baba Ramdev and Acharya Balkrishna. The image can be seen shared widely on Twitter and Facebook.
In fact, the packet of Beef Biryani Mix is from National Foods which sells Pakistan cuisine as per the About Us section on its website. It read "National Foods invites you on a journey with us, a journey through the flourishing green fields of Pakistan, enriching traditions laced with color, a love for family, and the spell-binding aroma of Pakistani cuisine."
The original image of the packet can be seen here. Check the screenshot shared below: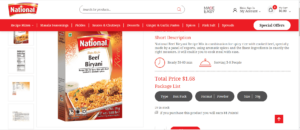 There are no such products made with Beef catered on Patanjali Ayurveda's Website.
Check out the real and the viral image: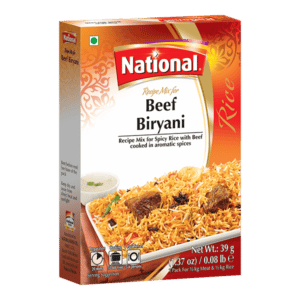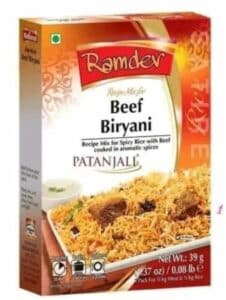 An edited image of a food packet with Baba Ramdev's name and Patanjali logo on it is shared to mislead.
While we make you aware of the facts, let us watch Pranayam Vidhi by Baba Ramdev. Yoga has been an ancient way to be healthy.
We ensure that you are updated with the facts. Please Check4spam before you believe and forward any doubtful image, message, or video. Be cautious, and be safe.
---
Find all fact-checking articles about news using Nokiye.com
हिन्दुओं को गौमूत्र, मुसलमानो के लिए "बीफ" बिरयानी का मसाला. लगता है लाला रामदेव भी हिन्दुओं को पागल समझता है I Nokiye
---
Post Date: 23 Sep 2022
Post ID: #80697