[SPAM] संसद में सुना था कि निर्मला सीतारमण प्याज खाती ही नही है
An edited image of Nirmala Sitharaman buying onions at the Mylapore market in Chennai is shared on social media
Post Information:
The below post has been circulating on social media
संसद में सुना था कि निर्मला सीतारमण प्याज खाती ही नही है

यह तो कमाल हो गया @nsitharaman ताई तो प्याज खाती नही थी । अभी तो हमारे नेता माननीय श्री @RahulGandhi जी की #भारतजोड़ोयात्रा 3 ही राज्य तक आई है अभी तो बहुत कुछ बाकी है भाजपाई नेताओं ।@INCIndia @INCUttarPradesh @ssrajputINC @DeependerSHooda @RubikaLiyaquat @ajitanjum pic.twitter.com/MKghPSmvjU

— SHAKTI PANDIT पश्चिमांचल का बेटा (कांग्रेस समर्थक) (@SATYAMKAUSHIK01) October 11, 2022

https://twitter.com/SevadalMH/status/1579878526362083333?ref_src=twsrc%5Etfw%7Ctwcamp%5Etweetembed%7Ctwterm%5E1579878526362083333%7Ctwgr%5Ed2f7dcaa9bcece4cd9f85d622aebfd1fa7dde545%7Ctwcon%5Es1_&ref_url=https%3A%2F%2Fpublish.twitter.com%2F%3Fquery%3Dhttps3A2F2Ftwitter.com2FSevadalMH2Fstatus2F1579878526362083333widget%3DTweet
Verification: An edited image of Nirmala Sitaraman is shared on social media
Nirmala Sitharaman, Minister of Finance and Corporate Affairs. MP (RS) representing Karnataka, went to buy vegetables on 8th October 2022 in Chennai at Mylapore Market. Soon after that an edited image started circulating on social media with caption "संसद में सुना था कि निर्मला सीतारमण प्याज खाती ही नही है।"
In fact, Nirmala Sitaraman did not buy onions in the market. Check the links shared below to know the facts:
The tweets about Nirmala Sitharaman to the Mylapore market are shared on the official Twitter account of Nirmala Sitaraman. Nirmala Sitharamn retweeted the tweet. In the video, one can see her buying vegetables but not onions. Check the tweets and screenshots from the original and the edited image. The same people, background and hands can be seen in the edited image.
During her day-long visit to Chennai, Smt @nsitharaman made a halt at Mylapore market where she interacted with the vendors & local residents and also purchased vegetables. pic.twitter.com/emJlu81BRh

— NSitharamanOffice (@nsitharamanoffc) October 8, 2022
Some glimpses from Smt @nsitharaman's visit to Mylapore market in Chennai. https://t.co/GQiPiC5ui5 pic.twitter.com/fjuNVhfY8e

— NSitharamanOffice (@nsitharamanoffc) October 8, 2022
Capture from the original video: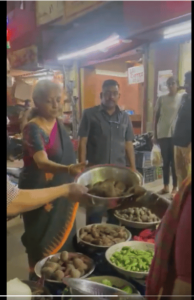 Edited image: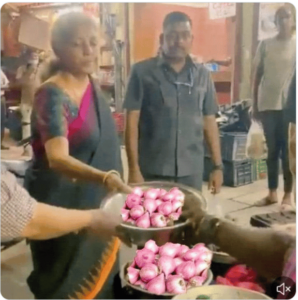 Nirmala Sitharaman did not buy onions from the Mylapore market in Chennai. The image shared is edited.
We ensure that you are updated with the facts. Please Check4spam before you believe and forward any doubtful image, message, or video. Be cautious, and be safe.
---
Find all fact-checking articles about news using Nokiye.com
संसद में सुना था कि निर्मला सीतारमण प्याज खाती ही नही है I Nokiye
---
Post Date: 27 Oct 2022
Post ID: #80790