[SPAM] विकास तो इतना हो रहा है कि सड़कें ऑटोमैटिक बनाई जा रही हैं जो 90° तक घुमाई जा सकती हैं
An image of broken sheets of the road is being shared on social media indicating it to be from India
Post Information:
The below post has been circulating on social media
विकास तो इतना हो रहा है कि सड़कें ऑटोमैटिक बनाई जा रही हैं जो 90° तक घुमाई जा सकती हैं। अच्छे दिन

https://twitter.com/ManzarK022/status/1553038609896583168?ref_src=twsrc%5Etfw%7Ctwcamp%5Etweetembed%7Ctwterm%5E1553038609896583168%7Ctwgr%5Ef52ed8f27918702decc6afc85a778a30bd536fd2%7Ctwcon%5Es1_&ref_url=https%3A%2F%2Fpublish.twitter.com%2F%3Fquery%3Dhttps3A2F2Ftwitter.com2FManzarK0222Fstatus2F1553038609896583168widget%3DTweet
Verification: The image of the broken sheets of road is from Thailand
An image of broken sheets of the road is being shared on social media with claims "विकास तो इतना हो रहा है कि सड़कें ऑटोमैटिक बनाई जा रही हैं जो 90° तक घुमाई जा सकती हैं। अच्छे दिन।" on Twitter and Facebook. It is indicated that the image is from India. In fact, the incident happened in Thailand in the year 2019. Check the links shared below to know the fats:
The same image can be found in an article published at SUARA.com. An article was published in Thai PBS News on 1st September 2019 with the description "Social media criticizes Ban Huai Thom-Na Nong Daeng Road, Pa Ko Subdistrict, Chanuman District, Amnat Charoen Province, which slipped out into a sheet and fell to the shoulder After flooding from the influence of storm Podul." Check the post shared on Facebook regarding the same incidence. Check the screenshot from the article and Facebook: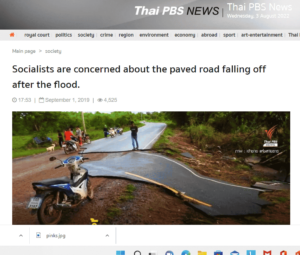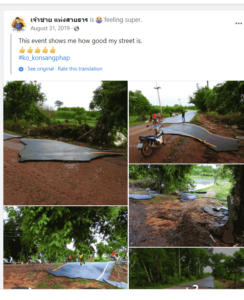 We ensure that you are updated with the facts. Please Check4spam before you believe and forward any doubtful image, message, or video. Be cautious, be safe.
---
Find all fact-checking articles about news using Nokiye.com
विकास तो इतना हो रहा है कि सड़कें ऑटोमैटिक बनाई जा रही हैं जो 90° तक घुमाई जा सकती हैं I Nokiye
---
Post Date: 03 Aug 2022
Post ID: #80513