[SPAM] लखनऊ में एड्स संक्रमित इंजेक्शन लगा कर बेच रहे थे फल
A fake screenshot attributing it to Dainik Bhaskar is being shared on social media with the claim "लखनऊ में एड्स संक्रमित इंजेक्शन लगा कर बेच रहे थे फल"
Post Information:
The below post has been circulating on social media
लखनऊ में एड्स संक्रमित इंजेक्शन लगा कर बेच रहे थे फल
Verification: Fake screenshot of Dainik Bhaskar is shared on social media
A fake screenshot attributing it to Dainik Bhaskar is being shared on social media with the claim "लखनऊ में एड्स संक्रमित इंजेक्शन लगा कर बेच रहे थे फल." The photo is being shared for years and is debunked by fact-checkers. Dainik Bhaskar shared an article refuting the claims. Check the screenshot shared below from the article in Dainik Bhaskar: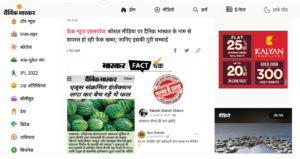 We ensure that you are updated with the facts. Please Check4spam before you believe and forward any doubtful image, message, or video. Be cautious, be safe.
---
Find all fact-checking articles about news using Nokiye.com
लखनऊ में एड्स संक्रमित इंजेक्शन लगा कर बेच रहे थे फल I Nokiye
---
Post Date: 03 May 2022
Post ID: #80155