[SPAM] ये फ़र्क देखिए
This post is circulating on Instagram with misleading claims. Please find more details in this article.
Post Information:
Below post has been circulating on social media.

Verification: Naseeruddin Shah is not sacred in India
While we come across many fake on Facebook, Whatsapp, Youtube, Instagram has become another media to spread fake news. Some post photoshopped images, some are memes, some make fun of words spoken by someone mixing them with indecent images or videos. There are a number of fake accounts on Instagram.
The post on Instagram reflects that Naseeruddin Shah is scared to be in India. This is not what the Bollywood finest actor said. Few words here and there are mixed and misleading quotes with images of people are made and posted on various social media. This particular post was observed on the Instagram account "modi_again"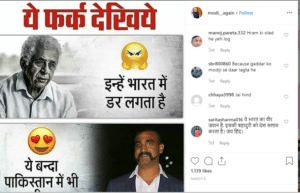 Check the links below to know what exactly Naseeruddin Shah meant:
Read More @ Aaj Tak Hindi News
Check this video by @ Lallantop
We ensure that you are updated with the facts. Please Check4spam before forwarding and believing any doubtful image, message or video. Be cautious, be safe.
---
Find all fact-checking articles about news using  Nokiye.com
Naseeruddin Shah Is Scared To Be In India | Nokiye
---
Post Date: 17 April 2019
Post ID: #72173