[SPAM] तिरंगे के रंग में रंगी विश्व की मशहूर गगनचुम्बी इमारतें । ये है मोदी जी का जलवा
Few images of Iconic monuments lit by the Indian Tricolor Flag are shared on social media crediting PM Modi for it
Post Information:
The below post has been circulating on social media
तिरंगे के रंग में रंगी विश्व की मशहूर गगनचुम्बी इमारतें । ये है मोदी जी का जलवा

तिरंगे के रंग में रंगी विश्व की मशहूर गगनचुम्बी इमारतें । ये है मोदी जी का जलवा। #FridayVibes #worldphotographyday #तालिबान_को_खुली_चुनौती pic.twitter.com/T1zJYCZ4ui

— 🚩🇮🇳🚩Ubr🚩🇮🇳🚩 (@Ubr13) August 19, 2021

https://twitter.com/Gajjusay/status/1428242800085139458?ref_src=twsrc%5Etfw%7Ctwcamp%5Etweetembed%7Ctwterm%5E1428242800085139458%7Ctwgr%5E%7Ctwcon%5Es1_&ref_url=https%3A%2F%2Fpublish.twitter.com%2F%3Fquery%3Dhttps3A2F2Ftwitter.com2FGajjusay2Fstatus2F1428242800085139458widget%3DTweet
Verification:  Edited images of Iconic Monuments lit with Indian Tricolour are shared as real 
Few images of Iconic monuments lit by the Indian Tricolor Flag are shared on social media crediting PM Modi for it. The buildings included in the viral post are listed below. PM Modi is not related to these images. Check the links below to know the facts about the images shared with false claims:
Petronas Tower, Malaysia
Leaning Tower of Pisa, Rome
Christ The Redeemer, Rio De Janeiro
Burj Hotel, Dubai, UAE
Statue of Liberty, New York, USA.
Eiffel Tower, Paris, France
Clock Tower, London, UK
30 St Mary Axe, London, UK
Kiran Bedi also shared these images with fake claims earlier in the year 2017. it was shared by various users on social media with claims like "World Celebrated Indian Republic Day ❤ Jai Hind!"
"Still many are Missing… Beauty @ its Best INDIAN FLAG "that can be seen here, here,
A design and art-related entertainment company, a part of The Pocket Aces Family, FilterCopy posted these photos on Republic day 2017 on its Facebook page saying that "if " this was true. The images shared were imaginary and not real. The colors were digitally added. People shared it as real.
Creator wrote- "If famous monuments and buildings were lit up in the Indian tri-colors, here's what they would look like! #BurjKhalifa #RepublicOfIndia #HappyRepublicDay!" There are brown color tags on the right side of the images. The tags i.e names of the monuments are the same as in the post by FilterCopy. These images were shared as imagination and this is clearly written by the creator.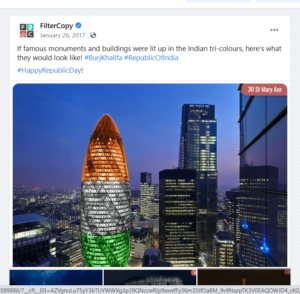 In fact, Burj Khalifa is many times lit in Tricolour to show solidarity towards India on many occasions.  Burj Khalifa was lit up in Tricolour on the eve of India's 68th Republic day ( 26th Jan 2017) Check for the videos shared below :
We ensure that you are updated with the facts. Please Check4spam before you believe and forward any doubtful image, message, or video. Be cautious, be safe.
---
Find all fact-checking articles about news using Nokiye.com
तिरंगे के रंग में रंगी विश्व की मशहूर गगनचुम्बी इमारतें । ये है मोदी जी का जलवा I Nokiye
---
Post Date: 20 Aug 2021
Post ID: #79085