[SPAM] जिन्होंने वैक्सीन लगा लिया उन्हें 5000 रु प्रधानमंत्री जन कल्याण विभाग द्वारा दिया जा रहा है
The fake link is being circulated on social media with a false claim that by registering on that website, the government will pay Rs 5,000 to all those who are vaccinated
Post Information:
The below post has been circulating on social media
जिन्होंने वैक्सीन लगा लिया उन्हें 5000 रु प्रधानमंत्री जन कल्याण विभाग द्वारा दिया जा रहा है

https://twitter.com/ramnathjha7/status/1551591223424532480?ref_src=twsrc%5Etfw%7Ctwcamp%5Etweetembed%7Ctwterm%5E1551591223424532480%7Ctwgr%5E30a2592fd23d9df5e28f43b58b5fcdb0a5856f35%7Ctwcon%5Es1_&ref_url=https%3A%2F%2Fpublish.twitter.com%2F%3Fquery%3Dhttps3A2F2Ftwitter.com2Framnathjha72Fstatus2F1551591223424532480widget%3DTweet
Verification: Link shared is fake. The government is not giving Rs 5000 to COVID-19 vaccinated individuals
A fake message in the name of the central government is being shared that conveys, that the government is giving Rs 5000 to COVID-19 vaccinated individuals. It is claimed that according to Pradhan Mantri Jan Kalyan Vibhaag is providing Rs 5,000 to all those who got the vaccine against COVID-19. It is also written that the provision is only till 30th July 2022. The claims is "*एक आवश्यक सूचना* – जिन्होंने वैक्सीन लगा लिया उन्हें 5000 रु प्रधानमंत्री जन कल्याण विभाग द्वारा दिया जा रहा है, आपने भी कोरोना का वैक्सीन लगा लिया है तो अभी फॉर्म भरें और 5000 रू प्राप्त करे  इस लिंक से फॉर्म भरें https://pmyojna.in/5000rs." It takes you to the page where it asks for the name and type of vaccine you took, members of the family, and phone number. The next page opens and asks for an option for depositing money and lastly, it asks you to share with groups. Official websites never ask to share with others. Check the screenshot of what we see after clicking on the provided link: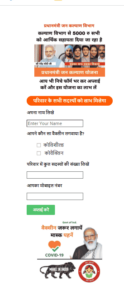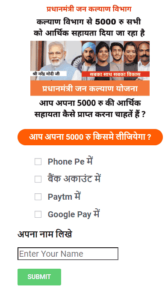 In fact, the link provided in the message is fake, The government is not giving Rs 5000 to vaccinated individuals. The fraud link is being circulated on social media with a false claim that by registering on that website, the government will pay Rs 5,000 to all those who are vaccinated.
One must always notice that the Government of India websites end with the domain name ".gov.in", which wasn't the case here. At the official websites, users didn't necessarily have to fill up the required fields to proceed to the next page.
While we checked the details of the Website at Whois.com the domain name pm-yojna.in was registered on 15 September 2021. The details of the user were not available, as per the records, it was registered in Alberta. Check the screenshot from Whiis.com: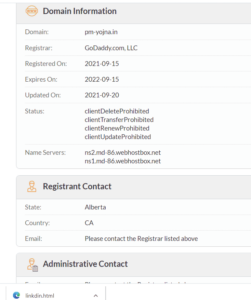 We ensure that you are updated with the facts. Please Check4spam before you believe and forward any doubtful image, message, or video. Be cautious, be safe.
---
Find all fact-checking articles about news using Nokiye.com
जिन्होंने वैक्सीन लगा लिया उन्हें 5000 रु प्रधानमंत्री जन कल्याण विभाग द्वारा दिया जा रहा है I Nokiye
---
Post Date: 23 Aug 2022
Post ID: #80570