[SPAM] गाय का मलमूत्र खाने-पीने वाला मोदी भक्त इन्फेक्शन से पीड़ित होकर अस्पताल में भर्ती है
The unrelated images of a doctor who ate cow dung and a man are shared on social media with false claims
Post Information:
The below post has been circulating on social media
गाय का मलमूत्र खाने-पीने वाला मोदी भक्त इन्फेक्शन से पीड़ित होकर अस्पताल में भर्ती है

https://twitter.com/BhimSenaChief/status/1470368015321423874?ref_src=twsrc%5Etfw%7Ctwcamp%5Etweetembed%7Ctwterm%5E1470368015321423874%7Ctwgr%5E%7Ctwcon%5Es1_&ref_url=https%3A%2F%2Fpublish.twitter.com%2F%3Fquery%3Dhttps3A2F2Ftwitter.com2FBhimSenaChief2Fstatus2F1470368015321423874widget%3DTweet
Verification: The doctor who ate cow dung did not die of any infection
The video of a doctor eating cow dung went viral. The photo of the doctor eating cow dung is viral with another image of a man with claims "MBBS Doctor from Karnal who asked others to eat cow dung and used to eat cow dung himself is now admitted in the hospital due to stomach infection." The post is viral on Facebook and Twitter. The video in which the doctor is seen eating cow dung and telling its benefits is shared below.
https://youtu.be/xiDji7MaJKc
Doctor Manoj Mittal who is in the video confirms that he is alive and the man on a bed in the image is someone else and not Dr. Manoj Mittal.
The man in bed in the viral post is a resident of Nepal. He died on 10 July 2017 at the age of 29 in a hospital located in the US. The same picture is on the website of gofundme.com. According to the website, the name of the person seen in the picture is Bidhan Thapa. A person named Balaram Poudel has published this information as a fundraising appeal to send the body to the native (Nepal) of the deceased person by the name of Bidhan Thapa. Check the screenshot shared from the website: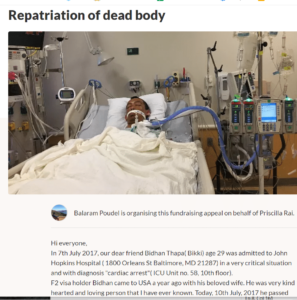 We ensure that you are updated with the facts. Please Check4spam before you believe and forward any doubtful image, message, or video. Be cautious, be safe.
---
Find all fact-checking articles about news using Nokiye.com
गाय का मलमूत्र खाने-पीने वाला मोदी भक्त इन्फेक्शन से पीड़ित होकर अस्पताल में भर्ती है I Nokiye
---
Post Date: 19 Dec 2021
Post ID: #79536