[SPAM] ऐसा बनेगा अयोध्या में प्रभु श्री राम जी का भव्य मन्दिर।
जय जय श्री राम
The image of the Akshardham Temple Delhi is shared with false claim "ऐसा बनेगा अयोध्या में प्रभु श्री राम जी का भव्य मन्दिर। जय जय श्री राम" on social media
Post Information:
The below post has been circulating on social media
ऐसा बनेगा अयोध्या में प्रभु श्री राम जी का भव्य मन्दिर।
जय जय श्री राम

https://twitter.com/sandeepjaarar/status/1402869035033710604?ref_src=twsrc%5Etfw%7Ctwcamp%5Etweetembed%7Ctwterm%5E1402869035033710604%7Ctwgr%5E%7Ctwcon%5Es1_&ref_url=https%3A%2F%2Fpublish.twitter.com%2F%3Fquery%3Dhttps3A2F2Ftwitter.com2Fsandeepjaarar2Fstatus2F1402869035033710604widget%3DTweet
Verification: The image shared is of Akshardham Temple in Delhi 
The image of the Akshardham temple in Delhi is falsely shared with false claims "ऐसा बनेगा अयोध्या में प्रभु श्री राम जी का भव्य मन्दिर। जय जय श्री राम" on social media. The same image was also shared earlier. This is not true. In fact, the temple shared is Akshardham Mandir at Delhi.  On searching the image on Google the same image is found on Local Guides Connect with a caption on the image "Akshardham Temple New Delhi India". The same image can be seen on the website by the name great republic and was published on 7 December 2020. Whereas the model of Ram Mandir that is supposed to be implemented is based on the model proposed by VHP in 1992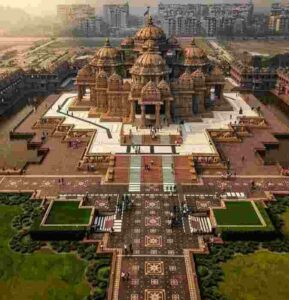 Read more @Boomlive
We ensure that you are updated with the facts. Please Check4spam before you believe and forward any doubtful image, message, or video. Be cautious, be safe.
---
Find all fact-checking articles about news using Nokiye.com
ऐसा बनेगा अयोध्या में प्रभु श्री राम जी का भव्य मन्दिर। जय जय श्री राम I Nokiye
---
Post Date: 08 July 2021
Post ID: #78907