[SPAM] अयोध्या में निर्मित दिव्य चौराह -अब बोल भी दीजिए आप लोग जय श्री राम🚩

The image of mace and bow is shared with false claims on social media that state it's from Ayodhya
Post Information:
Below post has been circulating on social media
अयोध्या में निर्मित दिव्य चौराह -अब बोल भी दीजिए आप लोग जय श्री राम🚩

https://twitter.com/singhkiranbjp/status/1337013581573808135?ref_src=twsrc%5Etfw%7Ctwcamp%5Etweetembed%7Ctwterm%5E1337013581573808135%7Ctwgr%5E%7Ctwcon%5Es1_&ref_url=https%3A%2F%2Fpublish.twitter.com%2F%3Fquery%3Dhttps3A2F2Ftwitter.com2Fsinghkiranbjp2Fstatus2F1337013581573808135widget%3DTweet
Verification: The shared image is from Gada Chowk Vadodara and not Ayodhya
The image of mace and bow is shared with false claims that state it's from Ayodhya on social media. The viral post can be seen here, here, here and here.
The claims on the image shared is in fact false. The reverse search for the image shows that the sculpture is from Vadodara. The Twitter user  ADV Vivekananda after posting the image as from Ayodhya corrected and tweeted that the sculpture is from Gada Vadodara. Research we found the image on Facebook. The Facebook user shared it on 14th June 2020 with the caption "The newly architected chowk It's Gada Chowk at Vadodara.अधर्म पर धर्म की विजय." I am Vadodara also shared it on Facebook with the same image on 9th July 2020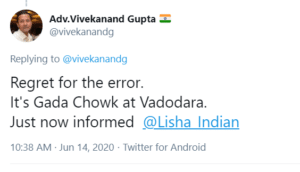 The post is also seen on the link that has a disclaimer "मुस्कुराइये आप चोदी में हैं! This is an Indian free speech sub for Memes, Jokes, Satire, Sarcasm and Fun. Official bakchodi subreddit of the Indian subcontinent. Everyone is welcome here irrespective of your political ideologies. Don't take anything too seriously. Don't get offended, instead make memes about your situation and post here. So, start posting stuff, make some people butthurt, have some fun!"
Factly had debunked the post earlier.
We ensure that you are updated with the facts. Please Check4spam before you believe and forward any doubtful image, message or video. Be cautious, be safe.
---
Find all fact-checking articles about news using Nokiye.com
अयोध्या में निर्मित दिव्य चौराह -अब बोल भी दीजिए आप लोग जय श्री राम🚩 I Nokiye
---
Post Date: 17 Dec 2020
Post ID: #78123