[SPAM] Smriti Irani बलात्कारी चिन्मयानन्द से आशीर्वाद लेती हुई!

The post is shared with false claim that Smriti Irani is seeking blessings from rapeguru Chinmayananda. Please read more about it in the verification section of this article.
Post Information:
Below post has been circulating on social media.
https://twitter.com/SanjayAjgalle3/status/1206508345642737664

बीजपी और उनके नेतागण की चाल और चरित्र की असलियत एहि है कि इन लोगोंने संसद और जनता के सामने बार बार झूट बोल रहे है ।संसद में बलात्कार के नाम पर नौटंकी करने वाली मैडम @smritiirani जी बलात्कारी चिन्मयानन्द से आशीर्वाद लेती हुई । @SevadalOR @INCIndia__ @INCOdisha @RahulGandhi pic.twitter.com/2DEwM3rdSj

— Bikram Senapati (@B_Senapati956) December 16, 2019
Verification: The Person in Image is Padma Bhushan Hukmdev Narayan Yadav
Image of Smriti Irani, folding her hands in front of Padma Bhushan Hukumdev Narayan Yadav is shared with false claims. The man in the image is projected as rape guru Chinmayananada. 
In fact the person in image is BJP leader Hukumdev Narayan Yadav from Bihar. He is MP from Madhubani district. Padma Bhushan Hukumdev Narayan Yadav has no criminal charge against him. We are sharing the screenshots from the link myneta.info: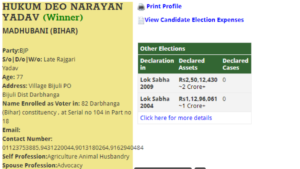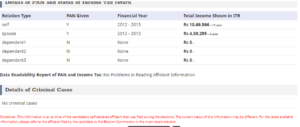 Check the links below to know the facts:
जिस सज्जन को आप इस चित्र में बदनाम कर रही हैं उनका नाम हुकुमदेव नारायण यादव है । पद्म भूषण से सम्मानित हुकुमदेव जी 1960 से लगातार देश सेवा में समर्पित हैं। दलित समाज एवं ग़रीब कल्याण के प्रति हुकुम देव जी ने अभूतपूर्व काम किया है।मेरा प्रणाम इन्होंने स्वीकार किया ये सौभाग्य है। https://t.co/NFIxWEoL1L

— Smriti Z Irani (@smritiirani) December 17, 2019
Shri Hukumdev Narayan Yadav: Veteran Farmer Leader – Former Central Government Agriculture Minister and 6-time MP. #PeoplesPadma #PadmaBhushan pic.twitter.com/vVwCnvY1hj

— MyGovIndia (@mygovindia) March 11, 2019
Know more about Padma Bhushan Hukmdev Narayan Yadav :
President confers Padma awards on 47 'inspiring' personalities .: Read more
---
We ensure that you are updated with the facts. Please Check4spam before you believe and forward any doubtful image, message or video. Be cautious, be safe.
---
Find all fact checking articles about news using Nokiye.com
smritiirani बलात्कारी #चिन्मयानन्द से आशीर्वाद लेती हुई!  I Nokiye
---
Post Date: 20 Dec 2019
Post ID: #74663