[SPAM] After CAB Passed By Parliament Bangladeshi Hindus Are Illegally Crossing Over To India

An old video from border is shared with false claims relating to recently passed CAB. Please read more about it in the verification section of this article.
Post Information:
Below post has been circulating on social media.
https://twitter.com/_______mujakkir/status/1204995225233395712
https://twitter.com/sagenaradamuni/status/1205037822169796608
Verification – Old video is shared with false claims
The video is widely shared on social media with false claims. Though the video shared is not from any of the recent events. The video was found on you tube and was shared by Biswajit Sarkar on 20 May 2015. Video is captioned as "Aboidho probes" which means "Invalid entry". "Milan Mela" that took place on 15th April 2015 is mention in the description to the video. Check the dates on the video shared below. It clearly proves that the video has no connection to the recently passed CAB by parliament.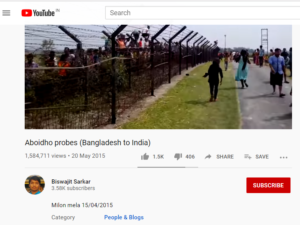 Lets know more about Milan Mela:
बॉर्डर पर इस मिलन के लिए 365 दिन इंतजार करते हैं दो देशों के लोग: @ Amar Ujala
Milan Mela is a Fair organised every year where people having relatives across the border meet and greet each other.
It was held at Rajganj block in Jalpaiguri. The meet was held under the supervision of the Border Security Force and Border Guards Bangladesh (BGB). Read more about it @The Telegraph
'Milan Mela' Organised Near Indo-Bangladesh Border: Read more @Siliguri Times
Read more @ Alt News
We ensure that you are updated with the facts. Please Check4spam before you believe and forward any doubtful image, message or video. Be cautious, be safe.
---
Find all fact checking articles about news using Nokiye.com
After CAB, Bangladeshis Illegally Entering India  I Nokiye
---
Post Date: 16 Dec 2019
Post ID: #74610