[SPAM] 15 जून के बाद फिर से हो सकता है संपूर्ण लॉकडाउन गृह मंत्रालय ने संकेत दिये है। ट्रेन और हवाई सफर पे लगेगा ब्रेक
The fake screenshot from Zee News is shared with claims of complete lockdown from 15 June 2020
Post Information:
Below post has been circulating on social media.
15 जून के बाद फिर से हो सकता है संपूर्ण लॉकडाउन गृह मंत्रालय ने संकेत दिये है। ट्रेन और हवाई सफर पे लगेगा ब्रेक

15 जून के बाद फिर हो सकता है लॉकडाउन, गृह मंत्रालय ने दिये संकेत
Verification: Zee News did not share any such message about Lockdown from 15 June 2020 yet
An edited image claiming to be from Zee News is shared on social media. The image and the information are shared on various social platforms that can be seen here,  here, here, here, here. There are a lot of mistakes in the edited Zee News screenshot that is fake and viral. The colour of the screen varies from that of the original Zee News screen. Fonts do not match. Mainstream media channels always follow a particular pattern for their screen, fonts, etc. Text is added to show the screen as from Zee News. This is the fake screenshot. Zee News did not show any such message in its telecast. Check the colour and fond difference between the two:
Fake                                                                                   Real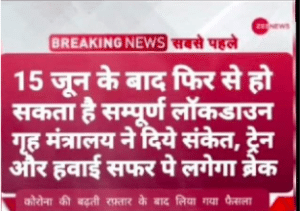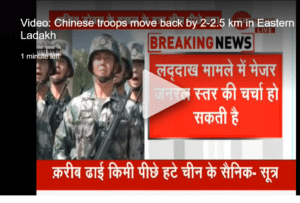 PIB clarified this on its Twitter account:
दावा: सोशल मीडिया पर फैलाई जा रही एक फोटो में दावा किया जा रहा है कि गृह मंत्रालय द्वारा ट्रेन और हवाई यात्रा पर प्रतिबंध के साथ 15 जून से देश में फिर से पूर्ण लॉकडाउन लागू किया जा सकता है।#PIBFactcheck– यह #Fake है। फेक न्यूज़ फैलाने वाली ऐसी भ्रामक फोटो से सावधान रहें। pic.twitter.com/DqmrDrcvSz

— PIB Fact Check (@PIBFactCheck) June 10, 2020
There are various news about Lockdown and 15 June on social media that can be seen here, here, here, here.
Know more about official information about COVID-19 @Ministry Of Health And Family Welfare.
Read more @SMHoaxslayer
We ensure that you are updated with the facts. Please Check4spam before you believe and forward any doubtful image, message or video. Be cautious, be safe.
---
Find all fact-checking articles about news using Nokiye.com
15 जून के बाद फिर से हो सकता है संपूर्ण लॉकडाउन गृह मंत्रालय ने संकेत दिये है। ट्रेन और हवाई सफर पे लगेगा ब्रेक I Nokiye
---
Post Date:  10 June 2020
Post ID: #76995