[SPAM] शहीद भगत सिंह के स्मारक पर सब ने जूते चप्पल उतार दिए हैं केवल दिल्ली के मालिक केजरीवाल ने जूते पहने हैं
Arvind Kejriwal's photo from Jallianwala Bagh Memorial is falsely shared as from his visit to the Shaheed Bhagat Singh Memorial with shoes on
Post Information:
The below post has been circulating on social media
शहीद भगत सिंह के स्मारक पर सब ने जूते चप्पल उतार दिए हैं केवल दिल्ली के मालिक केजरीवाल ने जूते पहने हैं

26 जनवरी से लेकर, 15 अगस्त पर चप्पल पहन कर जाने वाला, शहीद भगत सिंह के स्मारक पर जूते पहन कर जा रहा है..
जबकि और सबने जूते निकाल रखे हैं मतलब 26 जनवरी 15 अगस्त पर चप्पल पहनना, ड्रामा ही था, अब बताओ, जनता तभी तो इसको ड्रामेबाज कहती है ?? pic.twitter.com/1OIoFNo41d

— 𝑯𝑨𝑹𝑷𝑨𝑳 𝑺𝑰𝑵𝑮𝑯 🇮🇳 ହରପାଲ ସିଂ (@harpalsingh009) March 21, 2022

https://twitter.com/guptaravinder71/status/1505487610994900992?ref_src=twsrc%5Etfw%7Ctwcamp%5Etweetembed%7Ctwterm%5E1505487610994900992%7Ctwgr%5E%7Ctwcon%5Es1_&ref_url=https%3A%2F%2Fpublish.twitter.com%2F%3Fquery%3Dhttps3A2F2Ftwitter.com2Fguptaravinder712Fstatus2F1505487610994900992widget%3DTweet
Verification: Arvind Kejriwal was not wearing shoes  while paying respects at Shaheed Bhagat Singh Memorial
Arvind Kejriwal's photo from Jallianwala Bagh Memorial is falsely shared as from his visit to the Shaheed Bhagat Singh Memorial with the claim "26 जनवरी से लेकर, 15 अगस्त पर चप्पल पहन कर जाने वाला, शहीद भगत सिंह के स्मारक पर जूते पहन कर जा रहा है जबकि और सबने जूते निकाल रखे हैं मतलब 26 जनवरी 15 अगस्त पर चप्पल पहनना, ड्रामा ही था" and "शहीद भगत सिंह के स्मारक पर सब ने जूते चप्पल उतार दिए हैं केवल दिल्ली के मालिक केजरीवाल ने जूते पहने हैं।." The photo is being widely shared on Facebook and Twitter.
In fact, Arvind Kejriwal removed his shoes on both visits. Check the links and screenshot from the visit to Jallianwala Bagh Memorial and Shaheed Bhagat Singh Memorial:
Arvind Kejriwal shared photos to his Facebook account from the visit to Shri Darbar Sahib, Shri Ram Teerth Temple, and Durgiana Temple at Jallianwala Bagh Shaheed Memorial. He was not wearing shoes then.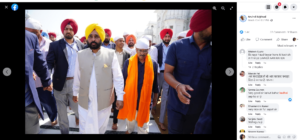 The visit to Jallianwala Bagh was live on the Facebook account Sawera Punjab.  At the Facebook account  Aam Aadmi Party Uttar Pradesh, the video can be seen where Arvind Kejriwal is not wearing shoes while paying tribute to Bhagat Singh at Shaheed Bhagat Singh Memorial. This event is from 16th March 2022. The dress Arvind Kejriwal is wearing is also not the same as in a viral photo with false claims. There is a miss-match of photos and claim to mislead people. Check the facts before sharing them further.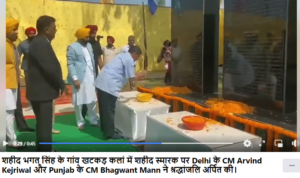 We ensure that you are updated with the facts. Please Check4spam before you believe and forward any doubtful image, message, or video. Be cautious, be safe.
---
Find all fact-checking articles about news using Nokiye.com
शहीद भगत सिंह के स्मारक पर सब ने जूते चप्पल उतार दिए हैं केवल दिल्ली के मालिक केजरीवाल ने जूते पहने हैं। I Nokiye
---
Post Date: 27 March 2022
Post ID: #79952