[SPAM] बस इतना बदला हिन्दुस्तान
The post with the claim "बस इतना बदला हिन्दुस्तान" is shared on Instagram, Facebook, and Twitter comparing the uniform and gear of a CRPF jawan with that of Valley QAT Squad
Post Information:
The below post has been circulating on social media
बस इतना बदला हिन्दुस्तान

बस इतना बदला हिंदुस्तान
🙏 धन्यवाद मोदी जी🙏 pic.twitter.com/80BDBHrX6t

— Jitender Dedha (@JitenderDedha6) January 3, 2022

https://twitter.com/TheSunilMittal/status/1477513531331280899?ref_src=twsrc%5Etfw%7Ctwcamp%5Etweetembed%7Ctwterm%5E1477513531331280899%7Ctwgr%5E%7Ctwcon%5Es1_&ref_url=https%3A%2F%2Fpublish.twitter.com%2F%3Fquery%3Dhttps3A2F2Ftwitter.com2FTheSunilMittal2Fstatus2F1477513531331280899widget%3DTweet
Verification: Two images are from different units of the Indian Armed Forces
The post with the claim "बस इतना बदला हिन्दुस्तान" is shared on Instagram, Facebook, and Twitter comparing the uniform and gear of a CRPF jawan with that of Valley QAT Sqaud. The comparison between the two photos is misleading as one photo is of a CRPF jawan, while the other is that of a Valley QAT commando, an elite special operations unit of the CRPF. Check the links shared below to know the facts:
First image of a CRPF officer on duty while wearing basic protective gear such as a helmet and a vest, and the officer is carrying a baton (lathi), was uploaded on Alamy in 2012 with the caption saying "indian Central Reserve Police Force (CRPF) member questioning a Kashmiri Muslim woman during a curfew in Srinagar, the summer capiatal of indian kashmir on 27/6/ 2012"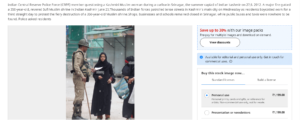 Second image showing the "commendable upgradation" in CRPF uniform was found to be a separate CRPF unit, known as Valley QAT. The Valley QAT or Valley Quick Action Team is an elite special operation squad operating in Jammu and Kashmir. The same image was uploaded on Getty Images with the caption Commando on high alert ahead of Republic Day celebration at Rashtriya Rangshala Camp, on January 22, 2021, in New Delhi, India.The second image shows another personnel in far-advanced military gear, including a night-vision-attached military helmet and a communication device. The word 'Commando' can be seen stitched on both sides of his grey uniform. A closer look showed the insignia on one of his sleeves that read "Valley QAT". Two images are from different units of the Indian Armed Forces.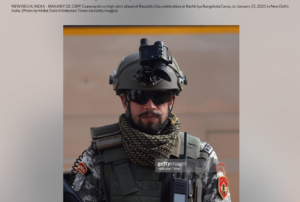 Check the link shared below."Passing Out Parade Of CRPF":
Read more @AltNews
We ensure that you are updated with the facts. Please Check4spam before you believe and forward any doubtful image, message, or video. Be cautious, be safe.
---
Find all fact-checking articles about news using Nokiye.com
बस इतना बदला हिन्दुस्तान I Nokiye
---
Post Date: 25 Jan 2022
Post ID: #79690