[SPAM] परिवर्तन देख रहे हो ना? शेख नाच रहे हैं पाकिस्तान के हारने पर
The visuals from a Football match held in September 2020 in Kuwait are being shared on social media claiming that Arabs are celebrating India's win over Pakistan (T-20)
Post Information:
The below post has been circulating on social media
परिवर्तन देख रहे हो ना? शेख नाच रहे हैं पाकिस्तान के हारने पर

*परिवर्तन देख रहे हो ना…..? शेख नाच रहे हैं पाकिस्तान के हारने पर 🤣🤣🤣🤣* pic.twitter.com/mrcMrMY6mw

— Alpana tomar🚩🙏🚩 (@alpana_tomar) August 31, 2022

https://twitter.com/sidysid1404/status/1564290906475614209?ref_src=twsrc%5Etfw%7Ctwcamp%5Etweetembed%7Ctwterm%5E1564290906475614209%7Ctwgr%5E38d44596623074bd935f3fc593fafbef5f33a1de%7Ctwcon%5Es1_&ref_url=https%3A%2F%2Fpublish.twitter.com%2F%3Fquery%3Dhttps3A2F2Ftwitter.com2Fsidysid14042Fstatus2F1564290906475614209widget%3DTweet
Verification: The visuals are from a Football match in Kuwait on 21st September 2020
The visuals from a Football match in Kuwait is being shared on Twitter and Facebook with the false claims "परिवर्तन देख रहे हो ना? शेख नाच रहे हैं पाकिस्तान के हारने पर" and "भारत के जीतने पर जिस तरह शेख खुश हुए इनका उत्साह देखते ही बनता है और बहुतों को तो भारत में रहकर भी मिर्ची लगी है।"
In fact, the video is from the Amir Cup finals for the 2019 – 2020 seasons that took place on September 21, 2020, in Kuwait. It has no connection to India's T-20 win over Pakistan. Check the links below to know the facts:
Khalaf Enezi shared the video on his Instagram with the description "I opened the phone at the last minute and pointed the camera at Aziz Ashour, the president of the Arab Club, I felt that this man will be happy because he deserves the joy. He worked hard, sowed, harvested, and shortened his brothers, and members of the board of directors, congratulations to the Arab and I will bring you to Kuwait. The date on the post is " September 22, 2020." (Translated to English). He also tweeted about it.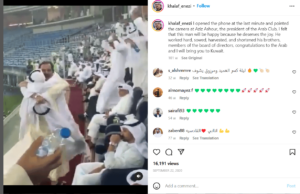 فتحت التلفون في الدقيقة الاخيرة ووجهت الكاميرا على عزيز عاشور رئيس النادي العربي كنت حاس ان هذا الرجل راح يفرح لانه يستحق الفرحة
تعب وزرع وحصد ولاقصور باخوانه اعضاء مجلس الادارة
مبروك للعربي وهاردلك للكويت pic.twitter.com/mMuaH36TWx

— خلف العنزي (@Khalafm) September 21, 2020
The visuals are from a Football match in Kuwait that took place on 21st September 2020.
We ensure that you are updated with the facts. Please Check4spam before you believe and forward any doubtful image, message, or video. Be cautious, and be safe.
---
Find all fact-checking articles about news using Nokiye.com
परिवर्तन देख रहे हो ना? शेख नाच रहे हैं पाकिस्तान के हारने पर I Nokiye
---
Post Date: 01 Sep 2022
Post ID: #80610